We have not yet had the opportunity to interview the Arizona State University Dance Team, if you are associated with the Arizona State University Dance Team please have someone from the team email us at Brittany@BDancewear.com to set up an interview (only takes a few minutes and it's free).
In the meantime here is some quick insights about this Arizona State University Dance Team from their website.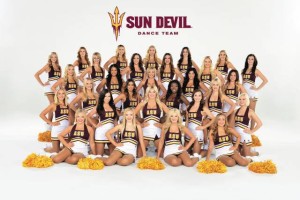 Arizona State University in Tempe, Arizona, has more than one dance team. The most well known and visible team is the Dancing Devils. The Dancing Devils sport club is the dance team that performs at football games and the men's and women's basketball games. They also perform at various Arizona State University and Tempe community events. Another dance team is the Devil DanceSport is an official Sun Devil Sports and SORC club at Arizona State University. The Devil DanceSport represents Arizona State University in ballroom dance competitions and events, both on-campus and off-campus. This year the Devil DanceSport hosts their eighth annual Devil DanceSport Invitational! Last year, their competition saw over 170 competitors, from 15 schools and five states register for nearly 1,000 entries. Due to this popularity, the Devil DanceSport Invitational has become the largest collegiate/amateur ballroom dance competition in the state of Arizona. The competition will include amateur single-dance events and multi-dance events for individual partnerships. These events cover the American Rhythm, American Smooth, International Latin and International Standard dances; nightclub dances such as Salsa, West Coast Swing, and Lindy Hop; and many more. They also have a sport club called the Swing Devils who focuses on swing dancing.