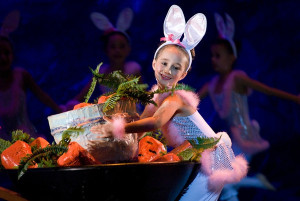 Inna Bayer, Founder and Artistic Director of Bayer Ballet Academy, founded Bayer Ballet Academy in 2005 to teach the Vaganova method of classical ballet instruction to young students on the Peninsula of the San Francisco Bay Area.  Bayer Ballet Academy in Mountain View, California, is a School of Russian Ballet. They offer a full range of age and ability appropriate classes, from pre-ballet to pre-professional training. Their rigorous and challenging curriculum enables those interested in pursuing dance careers as well as those for whom classical training is an end in itself to enjoy the discipline and artistry of Russian ballet in a warm and encouraging environment. They give personal attention and corrections to help develop all of their students.  Every year they provide performing opportunities (including professional quality story ballet productions and repertoire showcases) that showcase our students' progress, strength, and talents at the top performing arts theaters in Silicon Valley.
Their students have been accepted into prestigious summer programs at Bolshoi Ballet Academy in Moscow, Russia, The Royal Ballet School in London, England, Paris Opera Ballet in Paris, France, San Francisco Ballet in California, USA among others.
At Bayer Ballet, the teachers take great pride both in their Vaganova training and in their commitment to sharing their passion for helping young dancers develop and master not only technical skills but also artistic expression and musical appreciation. They focus on the art, not the sport of ballet.  They aim to instill in their students the notion that ballet is a most beautiful art form that serves as the foundation for all other dance styles. To complement our students' classical training, their comprehensive program incorporates gymnastics, contemporary dance, as well as historical and character dances that are integral to the repertoire of professional ballet schools in Russia.
They regularly invite Master Teachers of world-renown to come teach at their school during both the academic year and during their annual summer intensives. They provide live pianists who accompany their upper level classes and a wide range of performance opportunities where original choreographies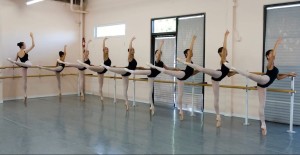 delight and hand-made costumes dazzle the audience.
Inna says she has had many moments of pride as her students make steady progress, reach individual goals, give outstanding performances, win ballet competitions, and gain acceptance to prestigious ballet programs and companies. She is very proud of their young dancers who spend many hours learning technique, rehearsing choreography, developing artistry and a life-long passion for performing.
One of her proudest moments was when members of the audience came up to her after the premiere of their holiday production The Snow Queen last December and told her that they were moved to tears by her dancers' performance.  That's among the best compliments any teacher may receive!  Great ballet performances "speak" to the audience by bringing laughter, tears and a myriad of emotions.  Storytelling through balletic expressions that touch the audience is most gratifying because the joy of dance is meant to be shared.
Inna believes that one of the biggest mistakes dancers make is to blindly imitate athletes on stage and overlook the paramount importance of the inter-connectedness of music, movement, and emotions.  Even if a particular choreography is sports-related, the dancer should always pay attention to its artistic expression.   They should learn to adapt their gorgeous body lines as a channel of expressive communication not just as an instrument that robotically facilitates movement.
Her goals this year, as in every year since she founded the school ten years ago, are to help each student improve, to impart to all students the challenge and beauty of each element of dance, and of course, to help ensure that they enjoy the learning process.  To help achieve these goals, they really look forward to staging four performances of their holiday production of The Snow Queen at the Mountain View Center for the Performing Arts on December 19th and 20th.
Anna was prompted to start her own studio by her vision of a school where all the teachers are passionate about delivering the best possible classical ballet instruction in the finest Russian Vaganova tradition that integrates technique, spirit, artistry, style, emotion, acting, and musicality to help students become professional caliber dancers.
She has always been and remains a firm believer in integrating real art and culture into their daily routines. Her dance training and performance opportunities in Russia, together with her teaching experiences in different parts of the world, have helped form her vision and strengthens her conviction. Notwithstanding pop culture's pervasiveness in so many spheres, she strongly believes that classical ballet in its purest form is unrivaled as a medium of artistic expression that enriches the lives of all who are exposed to it.  She wants her students to enjoy the purity, challenge, and excitement of classical ballet.  Having her own school gives her the freedom to execute this vision.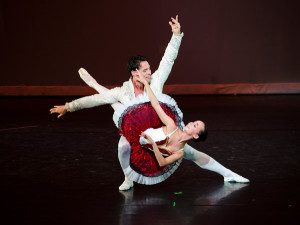 According to Inna, their teaching is guided by their belief that students must learn to nurture, use, and appreciate their bodies as instruments to create the art that is ballet.  It is not enough just to make the instrument move; it should also express feelings to bring out different emotions.
Dance, sports, circus acrobatics and gymnastics all have the potential to achieve great results, often with the goal to show how far the body can be pushed. Classical ballet has different goals that involve the synthesis of technical skills and artistic expression to establish a true connection of a dancer's soul to the movement and his or her interpretation of the accompanying music. The Vaganova system works to shape and mold every muscle in the body, thereby forming an aesthetically elegant instrument with which a dancer may tell wonderful stories.  Through this rigorous training over many years students will have the opportunity to refine both their instrument and their art to become artists.
Even though they realize that for many students the end goal is not to pursue a professional dance career, they believe all students benefit from their high teaching, coaching, learning and performing standards because discipline, hard work, creativity and commitment will serve them well throughout life no matter their chosen profession. ​
If you would like more information about Bayer Ballet Academy, visit their website at www.bayerballetacademy.com, call them at 650-988-9971 or email them at info@bayerballetacademy.com. You can also "Like" them on Facebook.
Please post a comment if you have had any experience with Inna Bayer of Bayer Ballet Academy.
Written By Cyndi Marziani
Owner
BDancewear.com