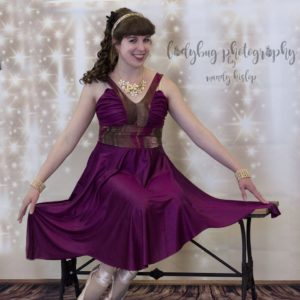 Julie Oliver, the Owner and Director of Beautiful Feet Academy of the Dance Arts in Caspar, Wyoming, describes her studio as dedicated, fun, and a little bit crazy! Their dance team is called "Beautiful Feet" based on Isaiah 52:7 in the Bible, which says, "How beautiful on the mountains are the feet of those who bring good news." According to Julie, they exist to bring the good news through dance that God sent us a Savior in Jesus Christ. "Let them praise His name with dancing . . ." Psalm 149:3a
Julie's proudest moment as a dance coach is seeing their dancers be brave enough to stand on their convictions in the midst of extreme pressure.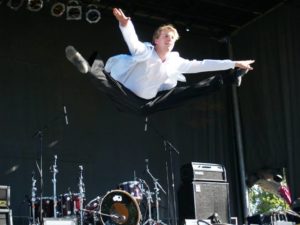 In Julie's opinion, all dancers have their own technique mistakes or "flubs," but she believes that one of the most pervasive and common problems is simply allowing their nervousness to show. She believes that the dancers can look the judges and audience in the eye and really step out of their comfort zone to present and perform, that makes a HUGE difference and also tends to draw attention away from other technical mistakes.
Their student's value to Beautiful Feet does not depend on his or her dancing skills or experience. They believe every person is a priceless treasure because he or she is valued by God and they will treat each student as such. Everyone is welcome at Beautiful Feet regardless of their beliefs.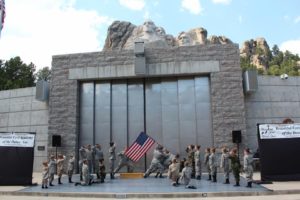 Beautiful Feet offers classes in a wide variety of dance styles for boys and girls of all ages (from 1 to 100!) and levels. In addition to the usual dance classes like Ballet (including boy ballet), tap, jazz, lyrical, hip hop, and pointe classes, they offer Irish step (hard and soft shoe), English country dancing, partner dancing (ballroom), Pas de Deux, tumbling, drama, musical theatre, cheerleading and various classes for the tiny dancers.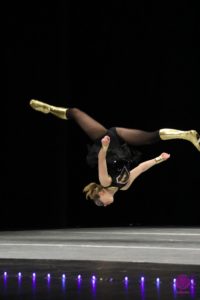 Julie's goal for this year is just to continue to improve their technique, their originality in choreography, to have fun, and to honor God. Beautiful Feet's goal is to honor Jesus Christ our Lord while learning the athletic and graceful dance arts with excellence, making friends . . . and having fun!
In addition to Christmas and Spring recitals, the Company (their competition and performance team) performs at numerous locations throughout the year including churches, nursing homes and the State Fair.
Also, Beautiful Feet Academy of the Dance Arts has performed at Walt Disney World, Mt. Rushmore National Monument, on the Steps of the Lincoln Memorial, at the base of the Washington Monument, and at the USS Missouri for the 75th Anniversary Memorial Events for Pearl Harbor in Hawaii! Beautiful Feet has a 100% positive review from the United States Department of the Interior. They have performed alongside The Moscow Ballet, the Western Ballet, Ballet Ariel, and Ballet Magnificat! On two separate occasions they danced halftime for the world-famous Harlem Globetrotters! They have also made presentations at Hills Alive and LifeLight Music Festivals in South Dakota (along with artists such as Steven Curtis Chapman, For King and Country, Casting Crowns, and more!). The next big adventure they have planned is a trip to New York City to present their patriotic program dedicated to fallen soldiers at the Statue of Liberty!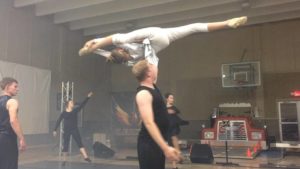 Julie began taking ballet at the age of two, received her pointe shoes at an early age, and began to teach at age 14. She has trained with Ballet Magnificat, Ballet Ariel, the Moscow Ballet, The Eugene Ballet, and The Western Ballet. She has studied Vaganova, Cecchetti, and Ecole Francaise. In 2008, at age 21, she opened the thriving and much-requested Beautiful Feet Academy of the Dance Arts. Starting a studio has been a lifelong dream for Julie because of how much she loves to dance! She also felt it was a call on her life that she could not ignore.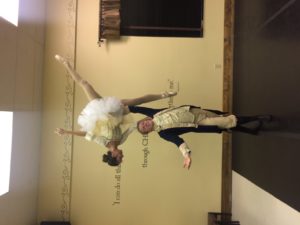 In addition to her responsibilities as Owner and Director of a vibrant dance studio, Julie is married and has a 3-year-old boy, a 2-year-old girl, and is due in October with her third child!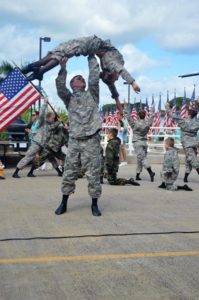 Additionally, she encourages readers to learn about her sister's Ugandan home for orphans with AIDS at www.africaourownhome.org.
Julie's final comments for any dancers reading this blog– "the desires of the diligent will be fully satisfied" and as long as you keep practicing faithfully, you can achieve anything you set your mind to!
If you would like more information about Beautiful Feet Academy of the Dance Arts, visit their website at www.beautifulfeetdance.com, email Julie at julie@beautifulfeetdance.com, or call them at 307-277-8907. You can also "Like" them on Facebook (www.facebook.com/beautifulfeetdanceWY), and check them out on YouTube.
Anyone who has danced at Beautiful Feet, with Julie Oliver or with any of the other instructors at Beautiful Dance, is invited to comment on our blog.
the desires of the diligent will be fully satisfied" and as long as you keep practicing faithfully, you can achieve anything you set your mind to!