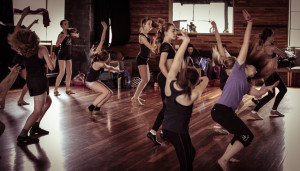 Melissa Quenette, Director of Dance at Berwick College Dance Academy, in Berwick, Victoria, Australia! It is kind of cool to get to hear from a school from "Down Under."
Melissa describes The Berwick College Dance Academy (BCDA) as a program offered to accelerate dance students within their secondary school. Unlike the colleges in the United States whose students have completed 13 years of school and range in age from approximately 18 to 24 years of age, Berwick College is a co-educational, public school for years 7 to 12. The college has approximately 1500 students and caters to a wide variety of students with its many pathways and programs, including VCE and VCAL. At present, they are running the dance course in Year 7 and Year 8 and will increase that to Year 9 in 2016. The academy allows dance students who have an interest in dance and the performing arts to learn about their passion while concurrently completing their secondary education. BCDA provides a fun, safe learning environment where they encourage their students to work hard and to keep pursuing their dreams and aspirations.
In Melissa's opinion, is different from other dance schools because the BCDA allows students to add what is often just an extra-curricular activity into their schooling. Their dance classes are built into the school timetable which means unlike many other secondary school programs, students do not have to commit time after school. Year 7 students have an allocated six hours per week of dance and Year 8 and 9 students approximately five hours per week. The BCDA also works at keeping fees down to ensure they do not exclude families that cannot afford the high costs associated with dance. The course fee is $350 per year and includes experienced teachers, excursions, uniform, competitions, workshops and great facilities.
Every time she heads to class and the students are already dressed and stretched ready to go, without me having to say a word, makes her proud. To see young students so enthusiastic and hard-working makes her job one of the best in the world. According to Melissa, watching their BCDA students in the school production would have to be a stand out moment for her. They were so professional and she loved seeing all of their individual personalities on stage. The feedback received from staff and the community praising how good their dancers were confirmed that it is not just her who thinks they are wonderful! This year they also competed in a national dance competition for the first time. It was the start of the school year which meant their dancers had only been dancing together for about two months. They were competing against troupes that were about 4-5 years older than their students and had been dancing together for a few years. To cut a long story short, they ended up coming second in the state which was a huge achievement for their students and the school.
Melissa believes that social media plays a big role in a lot of mistakes she sees not only

her dancers but the Australian dance community make. "Tilt Tuesday" and other ridiculous things you find on social media push their kids to overstretch and injure themselves. They complete a unit of work each year that looks at positive and negative influences in the media which hopefully leads to their BCDA students making the right decisions when it comes to social media. Picking the right role models and understanding safe dance practice is something they push at all year levels.
Her ultimate goal for the remainder of the year is to ensure that her students are good people with a positive outlook on life. She sees far too many dancers hit a particular age and feel that dance is not cool anymore and that their friends are not doing it so that means that they need to stop. Guiding her students to have self-confidence and to think for themselves is really important to Melissa. Teaching independence and self-worth is just as important as technique!
Their school prides itself on providing individual pathways for all of their students. Seeing that they have so many talented students interested and passionate about the performing arts prompted them to commence the Dance Academy at their school. Hopefully, one day they can branch out to drama and music as well!
If you would like more information about the Berwick College Dance Academy, visit their website at www.berwickcollege.vic.edu.au or email Melissa at quenette.melissa.c@edumail.vic.gov.au.
Please post a comment if you have had any experience with Melissa Quenette of Berwick College Dance Academy.
Written By Cyndi Marziani
Owner
BDancewear.com