Elisa Heinsohn, Owner of Broadway Performing Arts (BPA), located in Bloomfield, New Jersey, BPA is an all around learning facility.  They teach everything having to do with the Performing Arts to develop the ultimate well rounded musical theatre performer.  Broadway requires not just triple threats these days, but performers who can do it all; sing, dance, act, tumble and play an instrument . . . all at the same time, by the way!
BPA, New Jersey's foremost performing arts school, offers expert training for ages 2 through adult in a wide variety of subjects by some of the most highly skilled teachers in the industry.  It is not just a dance studio. If you are looking for the best, this is the right place for you!  You will not find better training anywhere else in the following categories:  Ballet, Tap, Jazz, Lyrical, Hip Hop, Musical Theatre, Acrobatics, Belly Dance, Private Voice lessons, Acting classes, Piano and Guitar lessons.
She believes that their dance studio is different from other dance studios because they have professional experience that most studios do not have.  Elisa and her husband were performers on Broadway with 16 Broadway shows between us.  They have also done television and film work as well.  Most of their teachers are working professionals.  They bring a level of training to their students that is unmatched by any studio outside of New York City!
Elisa is most proud when her students turn their dreams into reality, whether that is getting into the college of their choice or getting hired and performing professionally.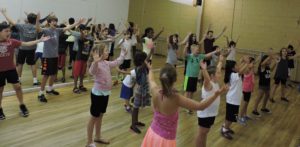 She believes one of the biggest mistakes dancers make is giving up and moving on to something else. "Stick it out. Nothing is gained by giving up."  The journey is where dreams are made and goals are achieved.  It is overcoming their weaknesses and fears that make them stronger and success that much sweeter!  If it was easy, everybody would be doing it.
Their goals for this year are to produce a full production of a musical which they are in rehearsals for as this article is written. They are producing You're a Good Man, Charlie Brown.  It has been a goal of Elisa's since they opened 10 years ago and they are on their way to achieving that goal!
When Elisa had her son, her focus changed from making herself the best performer she could be to keeping him safe, warm, fed and educated to the best of her ability. She wanted to be there for him and at the same time expose him to everything that she loved.  So, when a fellow actor asked if she wanted to open a Performing Arts studio, she was all in.  What better way for he to pass on what she knows best.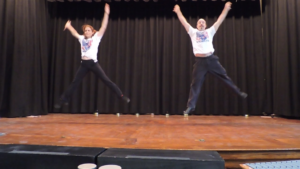 They love what they do at BPA and they want to pass that passion on to their students.  They are very proud of the fact that they have all ages from 2 to 70.  Many of their adults are so very grateful for this opportunity that they passed up when they were younger for one reason or another.  She believes that you are never too old or too young to be involved in the arts in some form or another.  It is a life-long passion and a source of happiness, take it from someone who knows.
If you would like more information about Broadway Performing Arts, visit their website at www.broadwayperformingarts.net, email them at bparts@verizon.net or call them at (973) 748-2787. You can also "Like" them on Facebook, follow them on Twitter, and view them on YouTube.
Anyone who has danced at Broadway Performing Arts is invited to comment on our blog.
Stick it out. Nothing is gained by giving up.