The Chevals (French for Horse[s]) are an award winning Dance Team from Creekview High School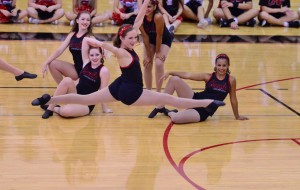 located in Carrollton, Texas. Their Director is Trudie Jopson Williams. Since Creekview High School opened in 1998, the Chevals have worked to make their community proud, both on the field supporting their athletic teams as well as off the field in the world of competitive dance. The Chevals have performed in many competitions, during the Dallas Mavericks half-time shows, in New York City, Disney World, Hollywood and more. The Chevals proudly play the role of ambassadors, not only for the Carrollton-Farmers Branch Independent School District, but these strong southern ladies also represent their city and state with pride, respect and class.
Trudie Jopson Williams is in her sixteenth year as the director of the Creekview High School Cheval Drill Team. Under Trudie's direction,the Chevals have been recognized with national titles from competitions in New York, Florida, Texas and California. In '05, '10, '11 the Chevals were named Grand Champions for their performance at a Texas Regional Competition.
Trudie has 25 years of experience in dance. She received her Associates Degree from Trinity Valley Community College where she was the Captain of the TVCC Cardettes.  She then attended Stephen (more…)