Jennifer Crowley is the Owner and Director of Creative Dance and Movement in a small studio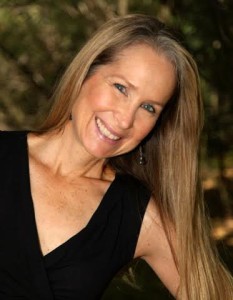 located in a rural part of Monterey County, California. They are a young studio now in their sixth year. Their largest population of dancers is infant through seven years old. However, they are very lucky to have a vibrant adult improvisation class as well. At Creative Dance Movement, they focus on dance as art and self-expression. Teaching creative movement and modern dance is their primary objective. Because art is meant to be shared, Creative Dance doesn't view dance as something that belongs in a competitive arena. They teach ballet, but not classical style. Instead, they teach a creative ballet curriculum with large doses of exploration and sharing. They also have wonderful tap and jazz dance classes.
Jennifer believes Creative Dance and Movement differs from other studios because they strive to teach their students to express themselves creatively with their natural movement styles. Having been denied the opportunity to dance as a small child, Jennifer began dancing seriously later in life (her mid 30s) in classes that were predominantly taken by 17 – 20 year olds. As a result, her perspective is different than that of most traditional dance studio directors. In those classes, she noticed that the younger women she encountered worked hard to learn and strengthen their technique but had virtually no ability, within the realm of dance, to move their bodies organically and that their ability to express themselves creatively had not been developed. Therefore, Jennifer developed a program that works to inspire children to trust their natural movement styles and their creative choices first and focuses on technique second. Jennifer believes that we are all a product of our experiences and having not grown up dancing her dance experience starts and continues on a very different path than most dance teachers and studio directors. Accordingly, how she approaches teaching dance and where she hopes to lead her dancers is quite different than in a traditional studio.
As a psychology major in college Jennifer learned quite a bit about child and human development. In creating and revising her curriculum, she constantly takes into account how the brain and body develop. She keeps an eye on current studies on these matters and takes them into consideration when working with children. For example, it is now recognized that movement and learning are connected and that the vestibular system needs to be healthy and strong to support learning ability.
When she discovered that Anne Green Gilbert of the Creative Dance in Seattle, Washington, approaches dance education with a similar philosophy, she went to Seattle and participated in a teacher training program. From that program, Ms. Green Gilbert enhanced what she was doing by applying a variety of aspects from her.
Jennifer said that she would have to say that her greatest goal at Creative Dance and Movement and her greatest dream for her students is that they recognize that all human beings are dancers. She wants them to learn that their bone structure and physical ability have nothing to do with them being dancers. Those things will dictate who will pay them to dance, should they ever want to be professional dancers, but those things will not define a person as a dancer.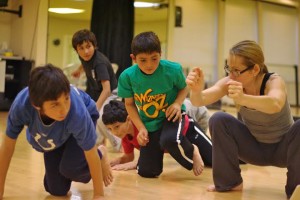 She said teaching dance is very gratifying and she has had a variety of very proud moments as a teacher. However, her proudest moment was when a student of hers wrote a letter describing her experience at Creative Dance and Movement. She began working with Aleria when she was fourteen years old. In her letter she explained that when she was younger she was extremely insecure and shy and was not comfortable moving freely in front of others. She said that even at the age of twelve she thought that she had passed the appropriate age to start to learn to dance. She wrote, "I was stuck in the mindset that only those who had perfect form or years of experience could be considered 'dancers.'"  She finished her letter by saying, "Now at eighteen years of age, I am very aware that I can dance, and that anyone, no matter how young or old, can also dance. This little dance studio has created a community of artistic people, and it is forging the way for a new bright and talented generation of good, creative thinkers and movers."
One can imagine the pride Jennifer felt when she discovered that her student had learned exactly what Jennifer hopes all of her dancers take away from this experience.
When it comes to the biggest mistakes Jennifer sees dancers make, she says that she knows most teachers and directors might answer this question in terms of technique or performance. However, in Jennifer's opinion, the biggest mistake she sees dancers make is not trusting their creative instinct. She believes dance is not just steps and combinations, dance is not just technique. She says, it is a myth that creativity is a gift that one either has or does not have and that we are all creative beings and we all have the potential to be much more creative. Jennifer suggests that the best way to remedy this is to take a class in improvisational dance or at least a class in which students learn tools for creating choreography. She believes dancers need to be in a class where they have creative input and can make creative choices and where they feel they have permission to take risks. She believes that all of us become better at creativity when we get comfortable taking risks.
There are several things Jennifer is hoping to achieve as Creative Dance and Movement moves into the future. She is particularly interested in partnering with somebody to create and teach a class for children with disabilities. Ultimately, she would like to start a dance company for her young dancers, one made up of disabled and non-disabled dancers and that could go out to the local elementary schools to perform. Jennifer believes that children need to see dance and witness that all of us are dancers.
After completing college, working for a while, and then starting a family, Jennifer needed a personal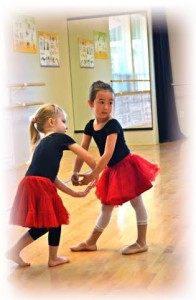 outlet and began studying dance. As her children grew, she and her husband realized they needed to start planning for their children's college educations. She is acutely aware that most children need creative opportunities and have fewer of them than perhaps ever before. Initially, she developed the Creative Dance and Movement program in order to bring dance into the elementary school so that all children, regardless of means, can enjoy the creativity and self-expression provided by dance. The pull to share dance was so strong that she decided to approach the principal at her kids' elementary school. From there she got connected with other administrators and began teaching in a few different schools.
Simultaneously, a personal dance friend was building himself a dance studio in an empty office space he owns. He was nearing 50 years old and wanted a place that he and others could use. Realizing this space would sit unused during the day, he thought a children's dance program in the space would be perfect. He came to Jennifer with the idea and subsequently Creative Dance and Movement was born.  Having expanded her program into the studio, she continues to bring dance to children eager to express themselves through movement. There, a variety of classes are offered to children as young as 2 1/2 years old. Their hope is to inspire young children to dance and find the same joy, self-expression and passion for dance as they have. The dance studio is a place where life-long friendships are formed and many fond childhood memories are created. 
For Jennifer, running a business has been a process of jumping in with both feet and learning as she goes. Because of the support of friends and family and probably most of all the support of the parents who understand and appreciate what she is trying to do for their kids, the process has been magnificent.
In 2013 and again in 2014, Creative Dance and Movement was nominated for the Salute To Small Business Award in the category of best woman-owned business. Jennifer says that it is an incredible honor to have the community recognize her business. Parents, teachers and family members of her dancers have done a great job spreading the word about Creative Dance and Movement.
Last year, Jennifer was contacted by a college student who is studying early childhood education at a local university. This college student is a dancer and was taking a movement class related to childhood development and was required to observe a master teacher. Within a few months, Jenifer got a second call from a dancer who was admitted to the nationally-acclaimed Luna Dance Institute in Berkeley, California. She also needed to observe some classes as a requirement for the program. Sharing what she does with others who aspire to bring movement and creativity into the lives of children is yet another honor she never anticipated.
Please post a comment if you have had any experience with Creative Dance and Movement of Jennifer Crowley.
If you would like more information about Creative Dance and Movement, visit their website at http://creativedanceandmovement.com, call them at 831-210-6823 or email them at jcrowley360@gmail.com. To receive their seasonal newsletter which will inform you of their classes, performances and promotions, you can sign up on Creative Dance and Movement's website. Additionally, you can like them on Facebook.
Owner