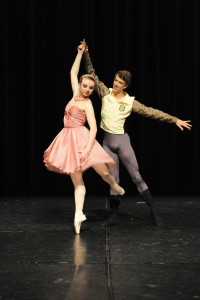 Crooked Tree Arts Center School of Ballet (CTAC School of Ballet) is part of a larger entity – the Crooked Tree Arts Center in Petosky and Traverse City, Michigan. The Crooked Tree Arts Center was founded in 1971 to sponsor and encourage activities in the arts for residents of Charlevoix and Emmet counties. They provide classes in the visual arts (painting, arts and ceramics), performing arts (drama, music including vocal), culinary arts , and the School of Ballet. The mission of the Crooked Tree Arts Center is to inspire and enrich lives through the Arts.
Heather Raue is the Artistic Director of The CTAC School of Ballet which is a big part of a small community. They have around two hundred students enrolled each year and (depending on their level) perform up to four times a year. Their pre-professional dancers leave every summer to study at prestigious schools such as Juilliard, School of American Ballet, San Francisco Ballet, Pacific Northwest Ballet, and Exploring Ballet with Suzanne Farrell among many others. It is the goal of CTAC School of Ballet to not just turn out dancers, but artists. Even for those students that do not want a career in dance, CTAC School of Ballet hopes that they take lessons from their experiences in dance and carry them throughout their life.
In Heather's opinion, the CTAC School of Ballet invests in their dancers' way beyond just teaching them technique. The School takes stock in who their dancers are and what they have to say. One of their annual performances, Fall For Dance, is completely student run and choreographed. They pick one student as director and from there the students all choreograph, costume, light, and create their own work to publish. It is a very surreal experience to see some of their younger students choreographing on someone twice their height; it is giving them another route to take if they decide not to become a dancer. For Heather, to see what some of the students can produce out of nothing is very inspiring.
They also take great pride in their students' capabilities and talents. For the Nutcracker,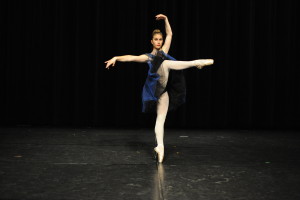 they do not hire anyone for any roles. Their students all perform roles like the Sugar Plum Fairy and her Cavalier, the Dew Drop Fairy, and the Snow Queen. The students perform professional-level choreography in these roles. The School does not make it easier for the sake that they are students, but challenges them and teaches them how to conquer something that may seem daunting in the beginning.
Their students also have a great amount of versatility for being so young. The School primarily trains them in classical ballet, but some of the repertoire they perform is very neoclassical, contemporary, modern, and abstract. For example, they had an alumni graduate from the LINES Trainee Program this past year and she returned this summer to set a piece of her original choreography on their dancers. It was very abstract. They had sections where they had to wake up like they had just been in a plane crash, selfie until they started malfunctioning, contort their faces, and just walk in a straight line across stage for five minutes. Every dancer completely devoted themselves to this piece and the processes that went into it without any hesitation. They went into this piece from the Swanhilda Friends section of Coppelia and went into Selections from Napoli right after. You almost could not tell they were the same dancers because of the professionalism that they had towards each piece.
Heather does not know if she can say that she has a "proudest moment" coaching, but rather that she has a series of moments that she is fortunate enough to see. She is at her proudest when her dancers finally understand something or reach a goal they set. Whether it is one of their intermediate dancers figuring out how to pas de bouree or an older dancer sailing that fourth turn., she am proud when her dancers accomplish something to which they really set their minds. Ballet is hard, and seeing her dancers succeed is a sign that they are all truly lucky. They are lucky because they get to do something they absolutely love.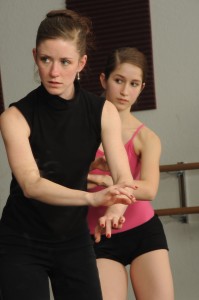 Complacency is something that really gets to Heather. It is hard for her to stand by and watch a dancer just go through the motions without giving to the art form and striving to be better with every step. Every correction should be heard and applied and every question deserves to be asked. Dancers tend not to realize that every day is an audition, not just the night before the casting or when you have a number pinned to you. Every day you need to work harder and smarter to become the best you can be.
If she were to talk from a technique-exclusive standpoint, Heather has two things that really grind her gears: active turn out and arm placement. When turning out, a dancer needs to be sure it is coming from their hips and external rotators and not their knees. It is easy to have 180 degree turn out in your knees, but your having it come from your hips is much healthier and a better way to work. For example, when a dancer is closing from a glissade, there is a tendency to turn in the second leg. That is a sign that a dancer is not actually using their external rotation, but rather false turnout from their knees. Turnout is the base for all of ballet, so it is important that it is done correctly.
The other issue Heather has is arms. As dancers, they work very hard to make sure their legs are the best they can be, but a poor upper body can ruin it all. Something that she constantly reminds her dancers is that the arms do not start at the shoulders, but rather at the spine and grow out from there. The back should initiate all arm movement. It is important that dancers take the initiative to fix this on their own and not wait for a teacher to correct them because it will become easier to revert back to bad habits if they often need to be reminded not to do them. She tells them to simply look in the mirror and watch what happens when you truly feel your arms pulling from your back and make that happen every time.
Heather wants her students to continue to grow and be successful in all capacities. She has a couple of students who will be graduating and she is looking forward to guiding them on their way to a career where they will be able to do what they love.
She grew up in Texas and lived there until she was in her twenties. She found her love of ballet at three years of age when she saw Suzanne Farrell on Sesame Street. After college, Heather got married, packed up all of her belongings, and drove until she found a place she could call home. When Heather got to Petoskey, she realized there were no dance schools in the area, so she went to the newly renovated Crooked Tree Arts Center and handed them her resume. She was hired on the spot to start the school and began teaching very soon thereafter.
Skip forward thirteen years and the program has improved and grown in so many ways. She now teaches alongside her colleague, Mrs. Karrie Benedict, who instructs the younger ballet classes as well as a modern and jazz inspired class. They moved from a shoebox of a space in the basement of the arts center to an enormous space on the third floor of a downtown building, perfect for seeing the famous Lake Michigan sunsets. Their spring performances have transformed from a simple theme-and piece type show to full-length ballets such as Cinderella, Cippolino, and The Wizard of Oz. They have grown and improved in countless ways and Heather cannot wait to see what the future has in store for the School.
If you would like more information about Crooked Tree Arts Center School of Ballet, visit their website at http://www.crookedtree.org, call them at 231.881.8107 or email Heather at heather@crookedtree.org. You can also "Like" them on Facebook, follow them on Twitter and connect with them on Instagram.
Please post a comment if you have had any experience with Heather Raue of Crooked Tree Arts Center School of Ballet.
Written By Cyndi Marziani
Owner
BDancewear.com