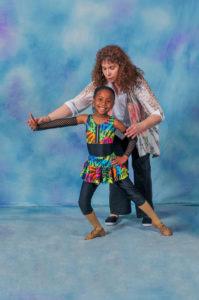 According to Linda Andrews, Owner of and teacher at The Dance Connection in New Rochelle, New York, (DC-NR) their studio has been open for 16 years and offers classes in ballet, tap, jazz, hip hop and ballroom dancing for children and adults.  (We recently wrote an article about a Dance Connection in Derby, New York. To differentiate between the two studios, we will refer to this studio as Dance Connection in New Rochelle or DC-NR.) The Dance Connection in New Rochelle is the winner of the 2013, 2014 and 2015 Best of New Rochelle Award for the best dance studio!
The Dance Connection has been a downtown New Rochelle "go to dance" destination for over fifteen years. It is in a very cool building filled with artists – painters, sculptors, jewelry makers and musicians. It is the perfect atmosphere for a dance studio. Adults, teens and children flock to the award winning studio to take dance lessons from Tap to Ballet and Hip Hop to Jazz plus Ballroom. When they say ballroom, they mean everything from the Swing to Salsa, Tango to Waltz and Hustle to Bolero. DC-NR offers both private and group lessons. Additionally, they offer their popular Saturday Ballroom Dance Parties.
The Children's classes are set up so that the students are in classes with other dancers of the same skilled levels and ages. This allows them the opportunity to develop at a comfortable rate. The pre-k and kindergarten dancers take tap and ballet which gives them a solid dance foundation. As the students get older, they can also take hip hop, jazz and ballroom. The younger children's classes are 50 minutes in length and the older students may take intensive classes that are 90 minutes long.
DC-NR has a diverse adult dance program. They offer Tap, Jazz, Ballroom and Latin to their adult students including a tap class for adults 50 and over. Their basic classes include jazz, tap and hip hop. They have a tap class specifically for adults over 50. As far as Ballroom and Latin classes are concerned they have classes that are Intro classes – Intro to Latin (Rumba, Salsa/Mambo, Cha Cha Cha), Intro to Swing and Hustle, and Intro to Smooth (Foxtrot, Waltz, Tango). In addition to Tap, Jazz and the dances in their Intro classes, they offer Argentine Tango, Quickstep, Viennese Waltz, Merengue, Bolero, East Coast Swing, West Coast Swing, Two-Step, Merengue and Bolero for their beginner to advanced adult dancers.
In Linda's opinion, their dance studio is different from other dance studios because of the personal relationship she tries to establish with the students she teaches and their families. She also encourages her students to work together as a team and to respect each other as people and as dancers. Additionally, she thinks that offering ballroom dance encourages boys and men to consider taking a dance class.
Linda is always proud of her students at their annual performance in June. They always manage to pull it together and put on a great show. She has also seen them act very professionally and politely when dancing at different events, competitions and in master classes with guest teachers.
The biggest mistake Linda has seen dancers make is forgetting to use their arms. They are so focused on their feet and learning the steps that they let their arms drop to their sides. This usually causes their shoulders to slump forward so it also affects their posture. Dancers need to work on dancing with their whole body – not just with their legs and feet.
Linda's main goal for 2016 is to provide her students with more performances in their local community at senior centers, nursing homes and special events in the city.
She started the Dance Connection because she has been dancing most of her life and wanted to share her love of dance with students of all ages.
DC-NR offers their Ensemble Company Classes to their junior and senior students who are committed dancers who wish to perform at community events, senior activity centers, nursing homes and other venues in and around the community. DC-NR believes that giving back to the community is an important part of their studio. Membership in the Ensemble Company is by invitation or audition only. The members must commit to addend all performances, rehearsals and classes in addition to the dancer's regular classes.
If you would like more information about the Dance Connection in New Rochelle, visit their website at danceconnex.com, call them at 914-576-5515 or email them at danceconnex@danceconnex.com. You can also "Like" them on Face book and view them on YouTube.
Anyone who has danced at Dance Connection in New Rochelle, with Linda Andrews or with any of the other instructors at the Dance Connection is invited to comment on our blog.
. . . the biggest mistake Linda has seen dancers make is forgetting to use their arms.