Dance Forever in Clearwater, Florida, was founded in 2011 by its present owners, Troy Agresta and Cathy Nelson and just celebrated its 5th Anniversary in May. Troy and Cathy founded Dance Forever because they wanted to create a sense of community where staff and students felt welcome, valued and encouraged.
They describe themselves as the home of fair and open pricing, friendly people and a fun environment. They have been told that people can feel the difference when they walk through the door – a difference created by their warm and welcoming staff and students!
They believe that their studio is set apart from other dance studios because they help overcome obstacles and inspire their students to dream a bigger dream for themselves, to have patience and to persevere. Many adults have always dreamed of learning to dance with a partner and are apprehensive based on preconceived notions that they need something they do not already have and according to Dance Forever, the truth is it is never too late to get started becoming the dancer you want to be.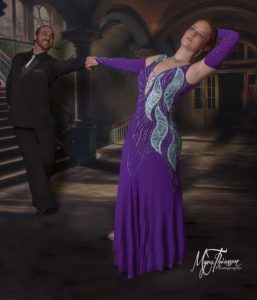 According to Dance Forever, many other studios use an old (and in our opinion outdated) business model with canned scripts and sales based tactics and commissioned sales people which many people on both sides are uncomfortable with. Dance Forever is service based and their employees (who are not independent contractors) work together as a team to help their clients reach their goals. They allow their students great flexibility in choosing their dance program while other studios chose a program for the student. Dance Forever focuses on social dancing. Although they do offer competitive training, the faculty does not push their students to compete.
Not only has Dance Forever offered affordable group classes in Zumba, Lambada, Cuban Motion, Arm Styling, Turns & Spins, they are also qualified to teach both Ballroom and Latin dances including the Cha Cha, Rumba, Samba, Salsa, Bolero, ,East and West Coast Swing, Merengue, Mambo, Waltz, Foxtrot, Tango, Argentine Tango, Viennese Waltz, Paso Doble, Jive, and Quickstep, Additionally, they are qualified to teach night club dances such as Night Club Two-Step, Bachata, Hustle, Jitterbug / Lindy Hop and Line Dancesport.
Dance Forever's is the proudest during their twice a year Showcase, which is the culmination of much effort on the part of so many and it is a wonder to see it all come together and brings great satisfaction to their students and their staff to experience.
The biggest mistakes they see dancers make is not recognizing that the only secret to becoming a better dancer is repetition of proper form.  Many people look for other ways, but they are a waste of resources.
Troy and Cathy always want to share the joy of dancing with more people! They are currently focused on using their customers own stories in their own words along with a photo of the customers in action on the dance floor to make a photo album featuring their testimonials and sharing these photo albums on Dance Forever's social media platforms.  It allows Dance Forever the opportunity to provide well deserved recognition and appreciation to their students regarding their journey and to inspire others like them to find out how dance can enrich their lives.
If you would like more information about Dance Forever, visit their website at http://danceforeverflorida.com/about ­­­­­­, email them at ­­­­­ letsdancefl@gmail.com, or call them at ­727-723-3269.  You can also find out more about them on Facebook at https://www.facebook.com/DanceForeverFL/.
Anyone who has danced at Dance Forever, with Troy Agresta or Cathy Nelson is invited to comment on our blog.
. . . that the only secret to becoming a better dancer is repetition of proper form.