Our Dancer of the Month for March, Chloe, was born In England and has dual citizenship. Her mothe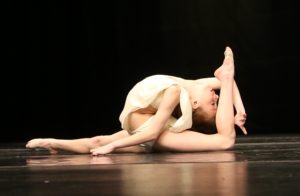 r (Mum) is English and her father is American.  Chloe is 14 and in 8th grade and so tiny that she often gets mistaken for a 10 year old. Obviously, this can be kind of annoying sometimes. On the other hand, Chloe says being so small sometime comes in handy since she is often the one that gets lifted and thrown around in their group dances. According to Chloe, she is "also very bendy, people often comment on my back being made of a rubber band."
Chloe loves to dance!! She started dancing 11 years ago when she was three. She now dances about five hours each day after school at The Factory Dance Productions in her  home town of Cullman, Alabama. She is not only a soloist there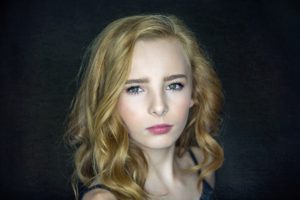 but also a member of their competition team. Chloe is a very well rounded girl who not only dances but also plays the piano and has been a member of her School Districts Math Team for four years!
When Chloe was just a toddler she was always dancing around the house. Consequently, her Mum enrolled her in dance classes at their local dance studio. That was the week Chloe turned three.
According to Chloe, she has had several special moments in her dance career. One moment actually lasted more than a moment.  She won a scholarship with Be Discovered/Disney's "Dance the Magic" to train and dance on Broadway in New York City. She then received some great training and dancing on a Broadway stage that she says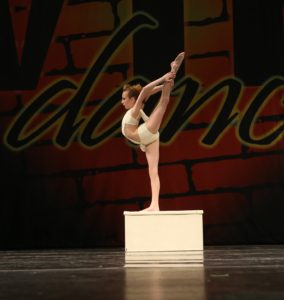 was amazing! Another moment occurred this year when she received Non Stop Dancer runner up from 24/7. She found that to be very special. She also received Regional Miss Teen Fusion from Fusion Dance this January. Additionally, going to Dancerpalooza last summer was a great experience and she is looking forward to going again this year. Chloe has always wanted to attend The Dance Awards and this year I will be.
Chloe found her experience buying from B Dancewear to be a breeze! They needed their pieces quickly and shipping was extremely fast. Additionally, the huge range of colors and styles available made it possible for them to buy the basics to create her costume for Venus just how they had envisioned it to be. She was a statue and at one point she was painted head to toe with ivory body paint! In her opinion, B Dancewear separates are so comfortable to wear that she would be more than happy to buy from B Dancewear  again.
Her goals for this year are to attend Dancerpalooza again this year a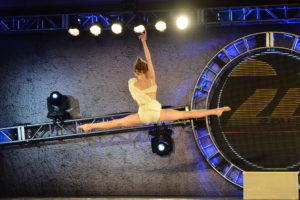 nd to take the Aria Ballet intensive. She is  hoping that this will help improve her overall technique and enable her to be a better dancer. She is also planning on attending The Dance Awards and really hopes she will do well.
Her long term goal is to become a professional dancer. If that does not happen, she hopes to be able to share her love of dance by teaching at a dance studio.