Our Duet Dancers for the month of February, 2017, are Campbell Kent and Gracie Maye Franklin from Alabama.
Seven year o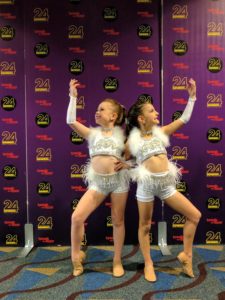 ld Campbell Kent has a passion for dance and all things related to dance.  Those who know her will tell you that she never stops talking, moving or dancing.  She is a smart, sassy, little red headed ball of energy that always fills a room with her giggles and smiles. Campbell knows exactly what she wants and does not quit until she achieves it.
In the fall of 2014, Carter Kent (Campbell's oldest sister) wanted to take hip hop classes at a new studio, The Factory Dance Productions that had just opened in Cullman, Alabama, their town. This prompted Campbell to enroll in a recreational jazz at The Factory. This was her first year at The Factory. The second year, she tried out and made it into three Company dances – jazz, hip hop and production and enrolled in recreational ballet, contemporary, technique, hip hop, jazz, tap, and acro. Campbell is now in her third year at The Factory and takes over ten hours of dance a week. In addition to her classes, she is in five Company dances, including the duet with Gracie Maye.
It has always been Gracie Maye's nature to immediately start dancing when she hears music. Her mother finds it joyful to see how Gracie Maye interprets a song and the emotions she conveys while dancing. It excites her mother, who is a fo
rmer dancer and member of a college dance team, to see that they share the same passion for dance.
Gracie Maye's goal for the year is to work toward perfection in each and every dance that she performs. She continues to work extremely hard to perfect techniques such as double turns, leaps and pointed toes to help her team be the best that they can be.
Gracie Maye's long term goals are to continue to work hard, learn and possess the ability to dance in every style of dance. She does not want to limit herself to one style of dance. She has a competitive nature and wants to win a National Championship like her mom. One of her long term goals is to use dance to help her to obtain a role in a Disney film that will allow her to dance and act.
Gracie Maye Franklin is a. hard-working dedicated little girl who loves dance. She is a fun loving, extremely im aginative girl that believes anything is possible if she just puts her mind to it. She is the type of person that finds the good in every person she meets. Gracie Maye has three older brothers who love and protect her in all that she does.
Gracie Maye believes if she continues to work hard that one day she will be able to attend University of Alabama and dance for them. She also dreams of one day performing in a Broadway show!
According to Keri Payne, Co-Owner of The Factory Dance Productions, their studio holds auditions every year to earn a part in the competitive company.  After the audition process very few are selected for a callback to be eligible for a solo, du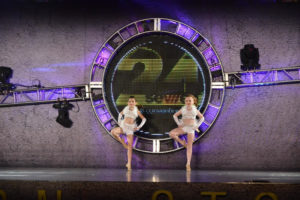 o or trio. Due to their hard work, technique, and extra ballet classes, Campbell and Gracie were paired together to create a duo. The rest is history.
Amanda Kent, Campbell's mother, really likes dealing with B Dancewear. She states that their studio, The Factory Dance Productions, has purchased many costumes and basics from B Dancewear for both competitive and recreational dances. In her opinion, there are so many options and colors to choose from that it makes it very easy to find exactly what you need.  It is also very convenient to find the exact basics you need to begin with when designing specialty costumes.  Additionally, B Dancewear's tutorials are wonderful!!!  They are extremely helpful and easy to access.  Overall, shopping with B Dancewear is a great experience and she plans to continue shopping with ­them.
Tags: dance, studio, dancer, ballet, contemporary, technique, hip hop, jazz, tap, acro