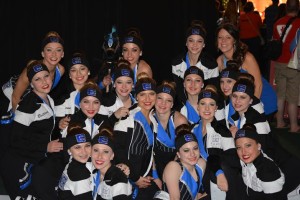 Eisenhower High School in Shelby Township, Michigan is a Blue Ribbon Exemplary School and their varsity dance team is a UDA State and Regional Champion in Hip Hop and Jazz and a UDA National Champion in Hip Hop and National Runner Up in Jazz. Their JV Dance team's last season was an undefeated season. They were the UDA State and Regional Champions and the UDA National Champions in Poms and 3rd in Jazz.
According to Rachelle Kiehle, the Varsity Dance Coach at Eisenhower High School, their Dance Team is hard working, talented, and coachable. They want to learn more and never settle.
In her opinion, her dance team is different from other dance programs because her team is a "family." She believes the team is full of hard working, talented young women.
Rachelle says that her proudest moment while being a part of this dance program is continuing to watch these young women grow – not only as dancers but what being a "team" has taught them outside of