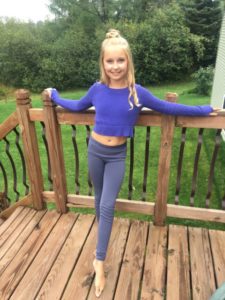 Our Featured Dancer, Ella McLeod, describes herself as "a passionate performer with a true heart for the arts." She loves to dance, music, theatre, and singing. When she is not dancing at the Madill Performing Arts Center, you can find her with her friends, singing in the Lake Superior Youth Chorus, singing in her church's praise band or acting in a local play.
Ella found her passion for dance at the tender age of two years old when her mother enrolled her in a Mommy and Me class.  Her happiest dance moment was being chosen as a Dancer of the Year Finalist in the Celebration competition.  Ella has always wanted to travel to Australia and meet a koala in person.
She says her experience with B Dancewear was "top-notch!" She was very happy with the fast shipping, beautiful fabric colors. She says that the convertible dress she ordered is absolutely perfect for her "Marilyn Monroe" dress!
Her goal for this year is to share her passions through her performances on stage. Ella hopes that dance will someday take her to Broadway or to a professional ballet career.  She lives by the motto, "Dream Big because dreams come true."