Kimberly Doman is the Head Varsity Coach for the Father Gabriel Richard High School Fighting Irish Dance Team aka RDT (Richard Dance Team). Father Gabriel Richard High School is Ann Arbor, Michigan.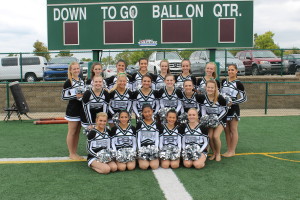 The varsity dance team is the only sport at the school that is a two season competitive sport. According to Kimberly, her team is made up of 19 girls including freshmen, sophomores, juniors and seniors with a love of dance. She says the girls work very hard during their season to prepare for their sidelines, half time performances and competitive routines. The team performs at the Varsity Boy's Home Football and Basketball games and competes with selected routines against other school dance teams across the state of Michigan. The girls learn and perfect multiple routines in the styles of jazz, hip hop, lyrical/modern and pom Tryouts take place in June and the season runs from July until the beginning of March.
In Kimberly's opinion, the most unique thing about their team is that they not only support and love each other, but they are able to share in their faith with every accomplishment that they make, which is pretty empowering. Kimberly says the team is the girls' second family. They push each other but still have a lot of fun together.
Kimberly is very proud to be the Head Varsity Coach of this dance team. Only eight years ago this team was started as a club sport and was run by two students. Since then their team has become back to back Catholic League Champions in the Cardinal Division and has received a bid to compete at the National Dance Team Championships in Orlando, Florida. They have competed there the past two years. The team's momentum continues to build each year and Kimberly is excited to see what they accomplish next.
This year there are seven seniors on the team, which is the most they have ever had.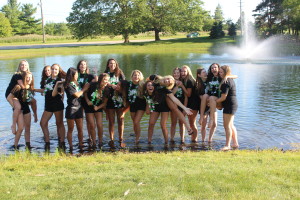 According to Kimberly, the seniors do a great job keeping the team focused on their goals. She says that one thing that the seniors know about dance that the younger dancers still have not learned is what it takes to win championships and competitions. The new girls are just starting to see what is involved. The team practices three days a week and has strength and conditioning once a week. Additionally, they have a game every week which requires that they have a routine to perform. Kimberly says the senior leaders drive the team to meet the team's goals, and so far this year she is very impressed with what they have done.
The team's goal for this year is to win the Catholic League Championship for the third consecutive year. They also want to improve their team technique to include team triple pirouettes, a la seconde turns, and changing spots.
This dance team is very close and works hard. The team's captains are Sarah Repovz (junior) and Catherine Fiebig (senior). Kimberly's assistant coach is Hally Yonko, who is also the school's Athletic Director.
If you would like more information about the Father Gabriel Richard High School Fighting Irish Dance Team, visit their website at http://www.fgrathletics.com/teams/?u=fgrbooster&s=htosports, call them at 734-662-0496 ext. 225. You can also "Like" them on Facebook, follow them on Twitter (@RDTCoach or CoachDoman@RDTCoach)and connect with them on Instagram.
Please post a comment if you have had any experience with Kimberly Doman of Father Gabriel Richard High School Fighting Irish Dance Team.
Written By Cyndi Marziani
Owner
BDancewear.com