Nancy Preiser, Office Manager, describes Fusion Dance Force in Holbrook, New York, as a pre-professional dance studio for dancers 2 to 19 years of age. They offer classes in every style of dance from a recreational level to competitive teams. Their teachers are all professionals in the industry, regularly traveling across the country for master classes and setting of choreography. Their studio is a family friendly environment that creates a positive learning atmosphere for all dancers involved.
She believes that what separates their studio from others is the level of teaching offered in their studio. Their weekly faculty includes, Danny Tidwell, Destini Rogers and Billy Larson as well as their directors, Kyle Preiser and Amanda Anderson. All of their dancers are trained as a professional would be. Their students are given a core foundation based around respect and hard work while also maintaining the highest level of dance training there is.
One of her proudest moments is actually something they experience on an event to event basis. Their studio is fairly new (going into their 4th year currently) so they constantly have a bunch of new kids coming in from all different places to form this team. However, you would never know it. Their kids are applauded for their respect for others and camaraderie as a group. They have cleaned up after others at dance competitions and have always kept a positive attitude towards others regardless of age, placement or competitive results. Watching while their dancers are recognized for their level of respect is most important to her and something she is proud of seeing whenever they attend different events.
The biggest mistake she sees dancers make is in their effort. She always says that she can fix a dancer who tries hard and has no talent but cannot fix the dancer who has all of the talent in the world but does not try hard. She is not sure if they can actually fix an individual's effort but there are ways of motivating each and every child that helps them achieve what they are looking for.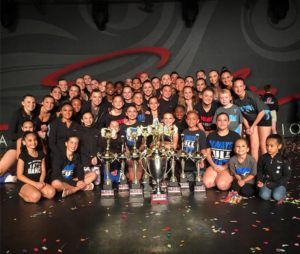 Her goal for this year is to send her kids on to professional careers. She has a couple of graduating seniors looking to attend some of the top dance colleges in the nation and she hopes they can get them into those schools. They have also had a few kids this year start working as professional dancers but the goal for them is to continue to push for more opportunities for their dancers and to have many more begin working at a young age.
She started Fusion Dance because she saw something missing in the dance studio industry in the area where she lives. She knew the experiences she could provide were missing at other dance studios and dancers were not getting the opportunities they should be. So they opened up and filled the void she saw.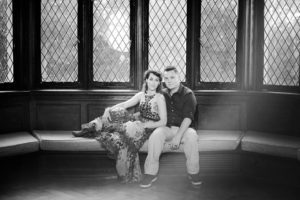 She thinks some interesting things about their studio really stem from their staff. She was born and raised on Long Island but traveled the country learning after the age of 18. She is also a photographer, music editor, videographer and entrepreneur. Her partner, Amanda Anderson, grew up in Chicago at some of the best studios in the country. She went on to tour with Fall Out Boy and dance for many artists including Black Eyed Peas, Ludacris, Ciara and others. She also danced and worked for Hubbard Street. With their extensive backgrounds in hip hop, contemporary, modern, ballet and jazz they provide a level of training that not many can match and what they do not know they have hired others to teach. One of their teachers, Danny, grew up at his mother's studio and went on to dance professionally for Complexions as well as being a finalist on the hit show So You Think You Can Dance. Billy was one of their teachers that really set the way for contemporary dance and Destini grew up in Oklahoma and went on to a very successful career as a dancer and choreographer. At Fusion Dance, they take ideas and training from all over the country and have put it all under one roof. Nancy sometimes wishes she was still a kid and had the opportunity to dance at Fusion. She believes it is truly something everybody should experience once in their life.
If you would like more information about Fusion Dance Force, visit their website at www.fusiondanceforce.com, email them at info@fusiondanceforce.com or call them at 631-563-6600. You can also "Like" them On Facebook at www.facebook.com/fusiondanceforce, Tweet them at www.twitter.com/fusiondnceforce, connect with them on Instagram and Subscribe to them at www.youtube.com/fusiondancecomplex.
Anyone who has danced at Fusion Dance Force is invited to comment on their blog.
. . . she can fix a dancer who tries hard and has no talent but cannot fix the dancer who has all of the talent in the world but does not try hard.