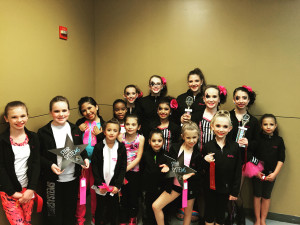 Elysabeth Muscat Hegab is the Managing Director of Gainesville Ballet in Gainesville, Virginia. They are a professional company led by a dynamic Artistic Director and Choreographer, a school offering Vaganova Ballet classes, contemporary, jazz, hip hop, character, as well as piano and voice lessons and Special Needs dance classes. They perform at the Hylton Performing Arts Center and often bring in superstars of ballet and supplemental guest dancers.
In her opinion, what separates their dance studio from other dance studios is the fact that the Artistic Director (Rafik Hegab) is amazingly talented, both as a choreographer and as a teacher. Additionally, the Managing Director (Elysabeth) is his wife, so they have a real family atmosphere at the studio, within the professional company and school system. Students have the opportunity to learn in a professional environment and perform on the same stage with famous superstars of ballet, and the pre-professionals have multiple professional performance opportunities. Their music program is also unique for dance studios in the area. Elysabeth is a former professional opera singer, and she has been on the Voice Faculty of the Peabody Institute of Johns Hopkins University since 2001. She has had great success with her music students here in Gainesville. One is now performing the lead in Oliver at the Arena Stage in Washington, D.C., Rafik choreographs all of the original repertoire and chooses exciting, new pieces which are never done in this area, rather than the typical Sleeping Beauty or Cinderella ballets that many companies present. Last year audiences were thrilled with a brand new Carmina Burana, and this season we're presenting the ballet Carmen (including live singing with an excerpt from the Opera), and a collection of new, contemporary works.
From Elysabeth's point of view, the biggest mistakes dancers can make is to have a poor attitude. Negativity, jealousy, pettiness, and unprofessional behavior will not get you anywhere. Dancers need to realize that the dance world is small, and their actions will be remembered, especially when people call in for references.
Their goals for this year are to continue to present unusual, exciting repertoire in their area, bring in exciting guest dancers, grow the school and company, and start touring outside of their local area. In April, they will be performing closer to D.C. at the Ernst Cultural center with a production of Giselle starring Aaron Smyth (Royal Ballet, Joffrey Ballet, ABT 2, 3rd place winner Australia's Got Talent.)
Elysabeth owned a studio in Baltimore and had been running it successfully for twelve years and knew how to manage. Then, she went in a new direction with Rafik. As a professional dancer with a degree in dance pedagogy and choreography, and with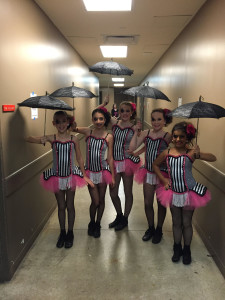 previous experience at another company as the Assistant Artistic Director, it made perfect sense for him to be the Artistic Director of a dance company and school. They enjoy being their own bosses, having artistic freedom, working with both students and professionals, and producing art on a daily basis. As a result, opening a studio together seemed the right decision.
Gainesville Ballet is professionally run, with easy online registration and parent portals, they perform in a beautiful theatre, their prices are reasonable, and they are very friendly, while maintaining discipline in the classroom. They welcome both recreational as well as pre-professional students, adults, young children with special needs, and aspiring singers and pianists. They are performance oriented, not a competition studio, although some advanced ballet students participate in YAGP. Even though their name is Gainesville Ballet, they have amazing contemporary and hip hop classes, as well as jazz, lyrical, and tap. Their website has lots of photos and video links. They have more photos on Instagram, and lots of information on their Facebook page which has over 3,400 "Likes" so far, from over 40 countries.
Gainesville Ballet Company and School is the rising star of the dance world in Northern Virginia! An Affiliate Arts Organization of the Hylton Performing Arts Center, a winner of the Seefeldt Awards for Outstanding Arts Organization, and a member of the Prince William Arts Council, Gainesville Ballet is supported in part by grants from The Dominion Foundation, NOVEC and Prince William County.
Led by the husband and wife team of Rafik Hegab and Elysabeth Muscat Hegab , Gainesville Ballet is an exciting, international, values based arts organization offering world class dance performances, and outstanding dance and music instruction ina friendly, supportive atmosphere.
The professional dance company of eight international dancers, and the school of over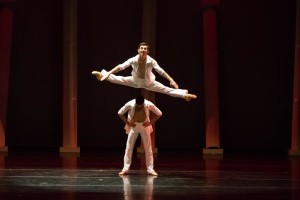 160 students, are housed in a state of the art, new 4,700 square foot facility with two spacious dance studios and a music studio. Guest stars who have appeared with Gainesville Ballet include superstar Daniil Simkin (ABT Principal), and Ashley Bouder, Teresa Reichlen, and Ask la Cour (all NYC Ballet Principal Dancers.) The recent world premiere of Rafik Hegab's Carmina Burana received rave reviews, and the annual Nutcracker performances are a holiday favorite in Northern Virginia. In 2015-16 Gainesville Ballet welcomes ABT Principal Dancers Isabella Boylston and James Whiteside (guest stars for The Nutcracker) as well as Aaron Smyth (Royal Ballet, Joffrey Ballet, ABT 2, 3rd place winner in Australia's Got Talent.)
The curriculum includes ballet, pointe, pas de deux, variations, character, modern, jazz, jazz/tap, hip hop, acro, pre ballet, adult ballet classes, special needs dance, and private lessons in voice and piano. Additional classes are often added; check the website to see what's new. Classes are offered Monday through Saturday.
Gainesville Ballet Company is a federal 501 [c][3] company, and regularly makes in-kind donations to military organizations. With the excellent administration, faculty, facility, education, performances, and smoothly run, family atmosphere, ainesville Ballet is a wonderful place to immerse yourself in the arts!
If you would like more information about Gainesville Ballet Company and School, visit their website at http://gainesvilleballetcompany.org, call them at (703) 753-5005 or email them at info@gainesvilleballetcompany.org. You can also "Like" them on Facebook, follow them on Twitter and connect with them on LinkedIn and Instagram.
Please post a comment if you have had any experience with Elysabeth Muscat Hegab of Gainesville Ballet Company & School.
Written By Cyndi Marziani
Owner
BDancewear.com