We have not yet had the opportunity to interview the Gordon College Dance Team, if you are associated with the Gordon College Dance Team please have someone from the team email us at Brittany@BDancewear.com to set up an interview (only takes a few minutes and it's free).
In the meantime here is some quick insights about this Gordon College Dance Team from their website.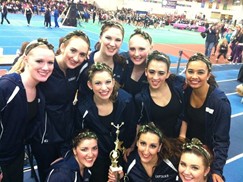 Gordon College's mission is to contribute to the growth and enrichment of students who dance and/or support Gordon Athletics, and to increase community awareness of Gordon College. The Gordon College Dance Team is an established, high-quality performing athletic team that has grown steadily since its inception in 2001. The GCDT began less formally as a student organization in 2001 and performed at several Gordon Basketball games. In 2002, a club was formally created through the Gordon College Student Association. Attending its first regional Universal Dance Association (UDA) competition in 2007, the team has gone on to compete in UDA and other regional competitions at least once per season, qualifying for the UDA College Nationals in 2009. Since its inception in 2001, the team has had a growing impact on the Gordon community. The team's increased level of performance and participation has helped the program earn the respect and appreciation of the Gordon community. As it continues to improve and expand to the next level competition and performance, it seeks to increase its connections to the College and the breadth of its support. The team seeks to be an ever-expanding vibrant asset to the College and Gordon Athletics. Its style is primarily hip-hop, both traditional and street, combined with jazz and contemporary techniques.