Hannah Justice has been chosen as our Dancer of the Week. Hannah is an 11 year old dancer on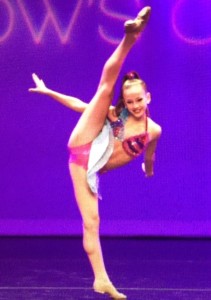 the Junior Elite Competitive Dance Team at Bourn Academy of Dance in Green, Ohio. She describes herself as a compassionate, humble and fun-loving person who enjoys having everyone as her friend! Hannah has a great sense of humor and loves to laugh! She is also passionate about her dancing. She is dedicated to making herself better each time she dances. Every time she looks in the mirror during dance practice, she sees her true competition – herself! She considers herself as her true competition! Hannah is determined to always give more than she thought was possible for her to give; to achieve one step higher than the goals she set for herself. Hannah has a quote that she would like to share: Practice like you've never won. Perform like you've never lost.
Hannah started dancing when she was very little. She would dance around the house and perform for her family. Her favorite show was about a white mouse who loved dancing, Angelina Ballerina. Hannah wanted to be a ballerina just like Angelina so at 3 years of age Hannah began dancing at Bourn Academy of Dance. She has been dancing there since – for the last 8 years.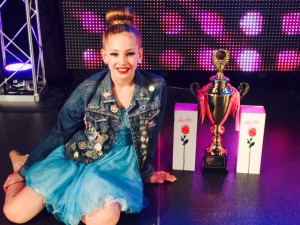 The happiest moment in dance for Hannah was definitely winning her first National Junior Elite Solo Championship! She was so on top of the world because not only was it was her first year solo competing, she won with a broken arm!
Hannah has always wanted to dance with the Senior group at her studio. In Hannah's opinion, they are a wonderful, funny, caring and talented group of dancers and she would be honored to be included. She believes that the dancers in the Senior group have so much experience that she could learn from. Also, she would love to have an agent, audition for and, of course, be chosen to perform professionally.
According to Hannah, dealing with Bailar Dancewear was a great experience!  She says they had looked at a number of dancewear sites without finding what they were looking for to complete her special solo costume. Her grandmother makes her solo costumes and both her grandmother and her mother are very particular! Her grandmother even spoke to Cyndi (the owner of BDancewear) about the order. Cyndi was very helpful in getting Hannah's grandmother and mother the right size and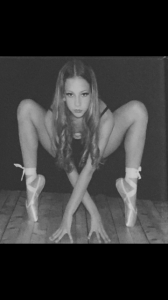 color. Hannah says they are so happy that they found Bailar's site and the perfect piece for her outfit. She just loves it all! Additionally, Hannah found Bailar's Dancewear very comfortable when she was competing. She says they are definitely looking at Bailar Dancewear for next year's accessories!
Hannah's goals for this year are to continue to grow in knowledge and to perfect her dancing! She is
practicing with the hopes of winning her 3rd and 4th consecutive National Solo Championships. She looks forward to being on the stage and performing for the audience, especially for her family, who has given her the confidence and the chance to do what she loves.
Hannah believes that dance is making her a better person. She can see how much she has grown since she started competition dance. She has the confidence to perform in front of an audience, the responsibility to care for herself and to build a strong relationship with dancers that she hopes will be dancing with her until she graduates from high school. She also believes this will all help her to become a more well rounded and happy adult. She hopes that when she dances, it makes others as happy as it makes her. Dance makes her happy, that's why she dances!
Please post a comment if you have had any experience with Hannah Justice.
Owner