In Motion Training Center (IMTC) in Hemet, California, offers a high degree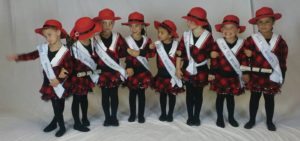 of dance training, technical skills, proper tumbling technique, fresh choreography, and fun events throughout the year for all their students, recreational and competitive. According to Lona Smith, Office Manager and Instructor, the owners are ethical and highly qualified. They offer their services in a bully-free, equitable environment, where all students interact harmoniously and encourage and congratulate each other.
Four very important items that sets IMTC apart from other dance studios are: (1) Lifelong skills that are instilled in them at IMTC, which go beyond their dance and tumbling skill set are confidence, integrity, teamwork, respect, humility, good sportsmanship, camaraderie, and of course, seeking the upper echelon of any given activities they pursue in life; (2) By negating cliques and controlling bullying, the students are "unleashed" to perform at their very best, and subsequently excel at a much faster pace; (3) Professionalism with compassion: Every student matters at IMTC. At IMTC they take each student and guide them so that the student progresses to the next level; and (4) IMTC's annual recital, Imagine, is a production of unparalleled pageantry for their students, families, friends, and local residents. The student's pleasure and pride in participation in the event is a real boost to their self-esteem and studio pride.
Since Lona instructs the littlest of their students, her classes are usually the very first classes that a child will experience in either creative movement or dance. Just about every day that she teaches is a new proudest moment for her to date. Her students are all under five years old. The things that they pick-up, learn, and deduce always amazes her. Children love to be challenged, and they make her proud when they rise to the occasion. Lona loves that she gets regular smiles and hugs. The students feel so at ease with her that they often invite her to their swim and birthday parties.
Because her students are the youngest students in the studio, Lona does not believe that her students actually make "mistakes." Students come in from varying backgrounds that become either enhancements or obstacles for them when they start IMTC's classes, and with that, some students take longer in getting familiarized with a classroom setting: socializing,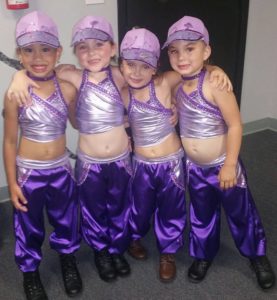 classroom rules, following instructions, and becoming more independent. Structure is the equivalent to a regular schedule that the student can depend upon, and structure (naps, meals, play, and outings) starts at home. Attending an IMTC tots or combo class at regular intervals adds to the students' structured environment and promotes a sense of security and confidence, group interactivity, and skills.   The largest influence that affects their dance class-time is when structure is changed or interrupted. This can occur when they alter daycare situations or structure changes, i.e. missed nap-time, etc. To fix any disparity in learning that a student may be experiencing, Lona makes recommendations to the parents. English is her own personal second language. So she understands fully the gap that a language barrier student is experiencing. Language is just one of the many obstacles that a new student or family may face.
Lona is constantly researching what can be done to better her classes and what can be offered for the area residents with IMTC's services. Last July, after their recital, Imagine 2015, she developed a program for their younger students that is separate from their regular graded class programs, and discussed the possibilities with Nick, owner and tumbling coach. IMTC implemented the program. Their enhanced combo program is taught by Nick Nicholls, Caitlin McKinley, and me (Lona Smith). The program has been successful for IMTC and has been well-received by the community, and Lona hopes to expand these services for them in 2016-17. With the expansion of programs and services come job opportunities. The keys to IMTC in setting both long and short-term goals have been diversity and the ability to be dynamic. With each new program, the integrity of existing programs, benefits, and policies do not fall by the wayside. IMTC honors the integrity of pre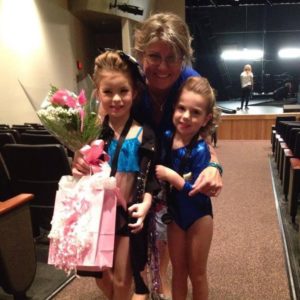 viously committed programs and "grandfathers" the participants until they advance or join a new program.
In Motion Training Center (IMTC) is made up of caring professionals who strive to instill confidence, good sportsmanship, team play, fitness, and the art of motion in their students. It is a commitment to the arts, sharing with and contributing to the community at large.  The dance community, as any other arts community, is committed to its roots around them, and they are a viable resource to the community, with a wide reach.
IMTC has its own core of training and beliefs. At IMTC, each group class has a specific curriculum whether it is a dancing, tumbling, or cheerleading class. It gives a sense of accomplishment for students and parents alike, and everyone is clear on the goals set for each succession of levels. Their classes are taught in an equitable format with emphasis on teamwork, good sportsmanship, and honesty. Their students are not isolated based on religion, school, or racial makeup. We are not an adjunct of any religious, racial, or school affiliation; IMTC enrolled students are a team in and of themselves, who strive for goals that contribute to the group and the communities around them.
At In Motion makes dance classes available to students from 18 months to adults including classes in Jazz, Hip-Hop, Tap, Ballet, Pre-Pointe, Pointe, Lyrical, Modern, Contemporary, Musical Theater, Choreography, Tumbling including backhand springs, aerials, hand stands, bridges, dive rolls, cartwheels, round offs, back tucks (Flips), layouts, full twists, and more; cheerleading – jumps, toe-touch, pike, hurdler, cartwheels, aerials, choreography, Jazz Team, Lyrical, Stretch & Strength, Ballet, Pre-Pointe, Pointe, Hip Hop, Tumbling, Jazz, Tap, Hip Hop, Musical Theater, Choreographer.
Private lessons in dance, tumbling, and cheer are available. These lessons can focus on a specific dance style or choreography, spot training, and proper execution for an audience.
Tracy Smith, owner of IMTC, has been involved in dance for over 20 years, and she shares her vast knowledge, technical training, and edgy choreography with her students. Mr. Nick, co-owner of IMTC, brings an equally vast background in gymnastics and is IMTC's tumbling coach. Combined they offer excellent choreography and training for dance and cheer teams.
In Motion is owned by Lona's daughter, Tracy Smith, and her fiancé, Nick Nicholls. Tracy has a vast background in dance, both training and dancing professionally, while Nick pursued gymnastics. The San Jacinto Valley area didn't have the level of services that Tracy and Nick were accustomed to in their respective training. Subsequently, they were able to offer their high-level training syllabus to their local community/ They saw a need for extra-curricular activities that could benefit the area's youth and opened In Motion Training Center.
IMTC will celebrate its 3rd anniversary in August and they have been well-received by the community. IMTC cares! They care about their students' well being, individual goals, and ethical values. They teach by example. IMTC understands! Dress codes can sometimes hinder a child's performance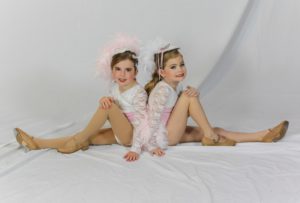 because they feel self-conscious or embarrassed; IMTC's dress code was developed to address children's and parents' concerns. IMTC wants their customers to get their money's worth! They offer a very liberal, unsurpassed make-up policy for missed classes.  IMTC wants students to feel at ease and to find their "niche." New students are offered a one-week trial period to take a variety of classes to help them decide. In Motion Training Center is owned and operated by local area residents, who have a vested interest in the well-being of the local community and its residents.
Lona has been working with IMTC since its inception, starting with graphics, data management, marketing, and costume design and creation through Hotness Dance Apparel™ and Contender Wear™ brands. Costume making for her started in 1982. She started teaching classes in October 2014, when her classes only had five children between all of them.
If you would like more information about In Motion Training Center, visit their website at www.inmotionda.com, call them at (951) 251-4644 or email them at inmotiontrainingcenter@gmail.com. You can also "Like" them on Facebook at https://www.facebook.com/InmotionTrainingCenter, follow them on Twitter, check them out on Foursquare, and connect with them on Instagram.
Anyone who has danced at In Motion Training Center, with Lona Smith or with any of the other instructors at In Motion, is invited to comment on our blog.
Children love to be challenged, and they make her proud when they rise to the occasion.