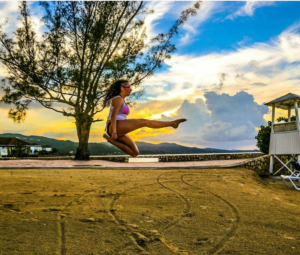 Our Dancer of the Month for the month of July is Celinne Lyons. Celinne is 17 years old and a senior in high school on Long Island, New York. Over the next few months, Celinne will be making a decision on where she will be headed after graduation. Obviously, this is a really big decision and will take a lot of thought. Celinne can be funny at times, a good friend and a good listener. She cares a lot about the people in her life and her family. She loves to travel and draw. Art is something she loves, too.
Celinne's mom always wanted her to be an Irish dancer so she put Celine in Irish dance classes at the age of 3 1/2. Irish dancing is all she has ever known. It became her life, her passion and gave her a great base for many life skills.
According to Celinne, her proudest moment as a dancer occurred when she placed fourth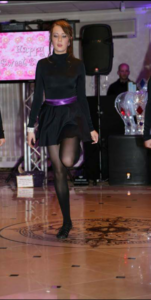 place out of 78 girls at oireachtas in a traditional set competition.
Celinne also loves performing during St. Patrick's Day (their March madness). She loves going to veterans' homes, parades and all kinds of shows to show off her love of Irish dance and celebrate it.
She has always wanted to make it in the top three of her competition and earn a sash. She has also always wanted to qualify for world championship.
Celinne found buying from BDancewear to be extremely easy. It was shipped before it was needed and fit perfectly.
Her goals for this year are to continue dancing and to win a first place in prelim.
She hopes that her dance will lead her to keep herself fit, active and involved. She also hopes to continue with the friendships she has made over the years and to make new friends.