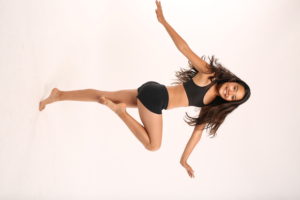 Fun-loving and thoughtful is a good description of Malani Kersting, our Dancer of the Month for the month of June. Malani enjoys spending time with her friends and  family, and just loves everything Disney! She has a great family, including her parents and her younger brother, Brody.   Some of Malani's favorite things to do at home are listening to music and playing with her dog, Kahlua! She is also excited to begin 7th Grade at Arroyo Seco!
Malani got started in dance when she was three years old.  It was so fun to dress up and be on stage!  She started dancing at The Dance Connection, in Santa Clarita, CA., when she was four years old, and danced there for seven years!  Miss Holly Diaz, Miss Jenn Basse, and Miss Natalie Cozzani were her mentors and inspirations to become a better dancer!
Her happiest moment as a dancer was being crowned National Dance Champion at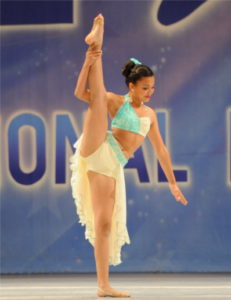 STARS Nationals in Las Vegas! The feeling of hearing her name announced and receiving the crown, was a moment she will never forget!
Malani has many goals for herself this coming year. As for dance, she will continue to work on improving her technique and overall ability in all genres. She will be attending a new dance studio and a new school this year and she looks forward to meeting lots of new friends to share amazing experiences with!  Being a good dancer, a good student, and a good friend are all goals that she aspires to achieve this year.
She hopes to become a member of a High School Dance Team in two years! That has always been her goal, and she can't wait for the opportunity!  She also knows that her experience as a dancer is going to serve her well in the future.  Being a dancer has taught her to be hard-working, motivated, and confident in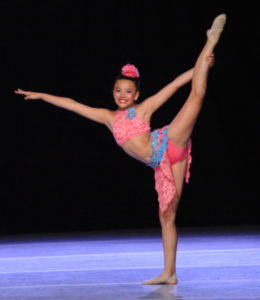 herself.  These attributes will stay with her for the rest of her life.
Malani advises other young dancers  to always try their hardest, and to smile no matter what! If you have fun dancing, you will always become better and the experience will be one you will never forget!  Remember this quote from Mia Michaels . . ."If you dance with your heart, your body will follow!"
Malani has always enjoyed wearing costumes from BDancewear. She loves all of the vibrant colors! With the designs from Miss Jenn Basse, BDancewear has ALWAYS added that extra spark that makes her shine on stage!  'Thank you, Cyndi, for all of your help in every aspect of putting my solo costumes together over the years!  You are the best and I thank you!'