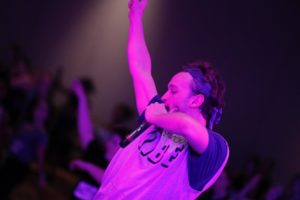 Kent Boyd, a professional dancer and choreographer, describes himself as energetic and passionate about life. He will never say "no" to a group game or activity. Kent loves expressing himself in many different ways and making people feel comfortable is important to him. In his opinion, his cat is the best cuddle partner in the world, but he is a dog person. 
In Kent's opinion what separates his teaching style from others is the fact that his Musical Theatre class is more of a commercial style dance but takes a step further into character development. He loves creating "a moment" before the dance and setting a loose structure at the beginning, middle, and end. Kent encourages students to fill it in with how they would actually react to the story in their own life, which is extremely enjoyable because he gets to watch different variations of his choreography. It's like a bunch of mini movies. 
According to Kent, his proudest moment teaching dance is just the feeling he gets when he allows a space for kids to be weird and a space for himself to be weird. He feels a big responsibility to lead these kids in a genuine, authentic way; therefore, it forces him to be honest with them which sometimes can be scary. But seeing a kid no longer doubt themselves and trust themselves is such a powerful moment because he remembers when that happened to him the first time, and it changed his life. 
In Kent's opinion, there are a couple of things that he sees as the "biggest mistakes" that dancers make. For younger kids, it would be balancing being a kid and working. They are in the studio for such a long time and it's easy to forget that staying home and playing with their friends and family is actually a great thing.  For my older dancers (especially the ones making the transition to professional dancers), it would be making the transition from an after school activity and weekends on conventions to a professional successful dancer. It's a huge change taking dance from an after school activity to your source of means. That being said, you still must dream big but also find a balance between being realistic and realizing all good things take time and enjoy the process.
Kent's goal for this year is to create more projects and collaborating with other choreographers. He also plans to continue to work on his acting career and delve deeper into producing. He has had a lot of fun connecting with the fashion world in the past few months. It is definitely something he wants to do more of. 
Kent attributes his mom for causing him to teach dance. He was quite a handful as a kid and had way too much energy to control, so she found a way to get him out of the house that allowed him to let all of his liveliness out. He is thankful every day that she used an art form such as dance to help channel his "energy." 
Kent is very positive person, and loves working extremely hard for something.  He believes it is that good old fashion American work ethic he developed, thanks to his father.
. . . you still must dream big but also find a balance between being realistic and realizing all good things take time and enjoy the process.