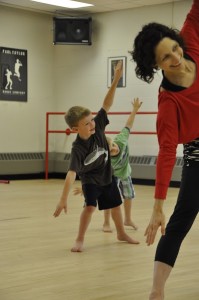 The Minnesota Conservatory for the Arts (MCA­) in Winona, Minnesota, is a non-profit organization affiliated with Saint Mary's University of Minnesota that exists to provide quality arts education and performance in dance, theatre, music and visual art, by nurturing artistic expression in community members of all ages. Their programs range from recreational to pre-professional, providing physical and aesthetic benefits, heightened self-respect, discipline and confidence.
In the opinion of Tammy Schmidt, MFA, the Director of Dance and Artistic Director, the dance program at the Conservatory is unique to most dance studios for a number of reasons. First, they have a program that integrates many art forms, allowing dancers to be well-rounded and to appreciate the connectedness of all of the arts.
Secondly, MCA has a very well-established curriculum in its dance program, which includes a syllabus, learner outcomes and a thorough written assessment of each dancer at the conclusion of every session. This is the standard for all dance disciplines taught, including: ballet, pointe, modern, jazz, tap, Irish, and hip hop dance.
Third, MCA's dance program does not participate in competitions, nor does it do recitals. The Conservatory puts on a biannual Nutcracker, as well as a full-length performance every April. This production is either a full-length story ballet, or contemporary dance concert choreographed by a variety of professional choreographers from across the region. For the winters in years that there is not a Nutcracker, MCA produces a dance showcase in their black box theatre for the younger dancers, as well as pieces choreographed by students that have taken the Choreography class at the Conservatory.
Lastly, MCA is an affiliate program of Saint Mary's University of Minnesota's Department of Theatre and Dance. Students at the university, or those taking a post-secondary option for high school, can get university credit towards their major, minor or PE credit, when they take an upper level MCA dance class. Their younger dancers also get the opportunity to perform in main-stage university productions, due to this connection, such as The Nutcracker, Swan Lake, Cinderella, Le Corsaire, etc.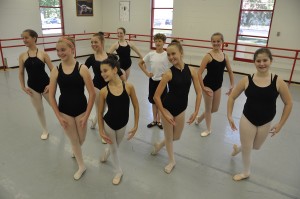 Tammy's proudest moment of coaching has been to see many of my young dancers grow to continue dancing after high school graduation. She has had many attend collegiate programs, perform with professional dance companies and teach at dance schools all over the country. It is why she does what she does—to continue spreading a love for and an appreciation of the art of dance.
The biggest mistake Tammy sees dancers make would be students not giving 100 percent in every single class. According to Tammy, they can fix this problem by being completely present and absorbing and applying corrections immediately and consistently. She believes this would fix many of the other mistakes that are made. She also says that every dancer needs to leave their problems and other thoughts at the door and spend the time in the studio working on their technique and artistry. Every. Single. Class.
Her goals this year for MCA is to continue to grow their dance program — most specifically, the contemporary dance disciplines (jazz, tap, modern and hip hop). They have a very well established ballet program, as it has existed for over 40 years, but they would like to see more ballet students taking additional dance forms, in order to create well-rounded, versatile dancers.
Secondly, she plans to continue to increase the Conservatory's exposure in the Winona area community and beyond. MCA can do this through additional marketing, lecture demonstrations, and school and community outreach.
The Conservatory was originally founded by Stefannie Valencia Kierlin in 1973, in what was then called The Ballet School. Upon her death in 1999, Tammy was brought in to continue her legacy of integrated arts education for all. It has been her endeavor to make dance, theatre, music and visual art accessible to all Winona-area community members.
According to Tammy, there are many reasons why students choose to take dance classes: for exercise, for creative expression, for the social benefits, for career aspirations. The Conservatory finds value in all of these reasons, while continuing to encourage dancers to work towards their fullest potential. Additionally, they have a boys' dance program that was featured in Dance Teacher Magazine and 2016 will mark their 14th annual two-week boarding summer dance intensive for students' 12 years of age and up.
MCA's dance division includes class offerings for ages 18months to adult, beginning through advanced levels. Genres offered include: ballet, Pointe, creative movement and modern, jazz, tap, hip hop, clogging, Irish, belly dancing, and fitness classes. Classes focus on the development of technique as well as artistry. Academic credit is available to high school and college students through Cotter High School and Saint Mary's University of Minnesota. Students also enjoy performance opportunities through MCA's Dance Repertory Company and Dance Repertory Company II.
MCA's dance division offers students exciting technique classes and performance opportunities in a nurturing and rigorous but non-competitive environment with qualified instructors. MCA successfully prepares students for future arts-related professional and educational pursuits.  Students and alumni have studied at or performed with: American Ballet Theatre, Anaya Dance Theatre, Ballet Chicago, Butler University, Central Pennsylvania Youth Ballet, Chicago Human Rhythm Project, Colorado Ballet, Columbia College, Continental Ballet, Eastman School of Music – Rochester University, Jeffery Ballet, Juilliard, Limon Dance Company, Milwaukee Ballet School, Minnesota Ballet School, Minnesota Dance Theatre's The Dance Institute, Radio City Music Hall Rocketed, Saint Olaf College, St. Paul City Ballet, Texas Christian University, The Alban Institute, University of Iowa, University of Minnesota Twin Cities, University of Missouri Kansas City, University of Oklahoma, and Wichita State University among others.
The Conservatory of the Arts is not limited to dance. They also have programs
in music, theatre, and visual arts. The Minnesota Conservatory for the Arts (MCA) offers programming in multiple areas of the arts including dance, music, visual art, and theatre. From classes, to workshops, to private lessons and instruction, they are an all-inclusive, equal opportunity organization, providing a nurturing environment, encouraging artistic expression and growth in children and adults in Southeastern Minnesota.
MCA's music division is part of the National Association of Schools of Music and offers classes, workshops, master classes, ensembles, private lesson instruction, informal and formal concerts, community outreach performances and summer camps.
MCA's Theatre Division offers programming through classes, workshops, productions, and summer camps. Curriculum includes classes in: acting, musical theatre, puppetry, technical theatre, stage combat, make-up, character development, playwriting, theatre games, and improvisation. Theatre students not only perfect stage skills, but they also develop important life skills such as confidence, teamwork, the ability to adapt to the moment, creativity, and how to observe the world around them.
MCA hosts visual art works from Winona area schools, local artists, and student works from the Minnesota Marine Art Museum and MCA.
The Minnesota Conservatory for the Arts strives to be a part of the Winona and greater Minnesota community.  Each year they participate in many local fairs, parades, and events.  They also love finding ways to engage groups by working with schools, scouting organizations or other groups.
The Minnesota Conservatory for the Arts (MCA) is a 501(c) (3) nonprofit organization founded in 1973. For over 40 years, MCA has provided programming and performance opportunities of the highest level of artistic and educational excellence. To be successful they rely on the time and generosity of their volunteers and donors to sustain the quality of their productions and programs, while still keeping their offerings accessible and their fees affordable for all families.
If you would like more information about the Dance Program at the Minnesota Conservatory of the Arts, visit their website at http://www.mnconservatoryforthearts.org, call them at 507-453-5500, fax them at 507-453-5507. You can also email Jamie Schwab, the Managing Director at jschwaba@smumn.edu. Additionally, you can "Like" them on Face book, follow them on Twitter and connect with them on Integra.
Please post a comment if you have had any experience with Tammy Schmidt of Minnesota Conservatory for the Arts (MCA).
Written By Cyndi Marziani
Owner
BDancewear.com