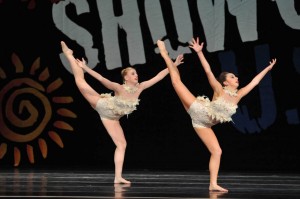 Momentum Dance Studio ("MDS") in Arlington, Texas, is one of the fastest growing dance studios in the Metroplex. Jennifer Gilmore, the Owner/Artistic Director/Company Director created the studio to give local dance students a place to grow in their dance abilities in a fun, morally sound environment.  With amazing teachers and exciting opportunities, Momentum Dance is quickly becoming a popular name in the DFW area. MDS is excited to start its seventh year with an amazing staff and wonderful students . . . all at a brand new, 7,000 square foot state of the art studio! They are also excited that their Momentum Competition Company has grown to more than 60 members this year!
Jennifer believes MDS is very much a family. Although they have grown from 60 students to 315+ in just six years, the family feeling is still there! They provide a morally sound, fun dance environment to dancers of all ages and ability levels. They focus on technique and proper training, while providing a fun, loving environment where students want to grow in their dance ability.
Their studio has very high expectations of students, parents and staff. They are more of a family than a business, and it shows in every aspect of what they do and how they teach. Instructors are passionate about dance, well trained and each of them is a positive role model to the students he/she is teaching. Their parents and students know what to expect from the instructors and in turn, the instructors also know what they expect from them. Jennifer advertises Momentum as being a drama-free studio and it truly is. If problems rise that compromise the good of the whole, Jennifer and her staff address the problems by any and all means necessary. No drama is tolerated by parents or dancers at all . . . ever!
Jennifer is not sure that she could choose just one "proudest moment." Opening their new location this year has definitely been one of them. The first day of classes, Jennifer walked in and all of the parents applauded, and it was one of the best moments of her teaching career. There have definitely been times when she was worried about the business side of the studio, but she believes that hard work, dedication and faith in knowing that she is doing things the right way has gotten Momentum where it is!
As far as her dancers are concerned, she is most proud when they feel successful and accomplished – whatever that means to each of them. Jennifer always enjoys watching them on stage at competition or recital. No matter how the performance goes, she is always proud to see them and hug them the moment that they step off stage. Of course, doing well at competition is always a proud moment – they are happy that their hard work has paid off and seeing that joy and pride in each of them makes her proud, too!
Watching individual dancers chase their dreams and accomplish them is also a very proud moment. Whether they want to be nurses, dancers, dance teachers, doctors, etc., it is always amazing to see them accomplish so much!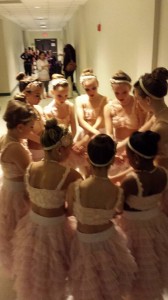 Jennifer believes that the biggest mistake she sees dancers make in the classroom, is pushing themselves to move forward before they are ready. She is a firm believer in the process of learning. She definitely believes that proper training, technique and body awareness is necessary before a dancer moves to the next level and learns harder steps, choreography, tricks, etc. She thinks that taking ballet for granted and not working hard to develop a strong body with proper technique and alignment is also a mistake. She always tells her students that at the end of the day,  hard work will outperform talent every time. It doesn't matter if you can do something if you can't do it correctly.
Outside of the classroom, Jennifer thinks the biggest mistake dancers make is not taking care of themselves mentally and physically. Many of their dancers spend many, many hours at dance school and she knows that at times it is a lot when added to their school schedules and other activities. She always tries to get them to rest, eat properly and take care of themselves first and foremost. She also thinks that one downfall of dancers is when they sell themselves short and constantly compare their dancing to others. She sees dancers who always strive to be like (fill in the blank with any other dancer). She strives to get them to realize that they need to focus on being the best dancer that they can be and not worry so much about others. She says that she has been there and she knows what it is like. So, she understands how difficult that can be, but, she tries to teach them that when they focus on who they are as a dancer, the rest will follow.
Jennifer's goal for this year is to continue to grow and to provide the very best environment and dance instruction possible, regardless of how many students are enrolled. They ended their year last year with about 220 dancers; one week into this season they have already hit 280. Her goal is to make each student, each class, and each day count as much as all of the others. She wants her dancers to be happy, passionate and informed. She also wants their parents to be happy with the environment they create for their children and for them to see that MDS is offering a great dance education to their child.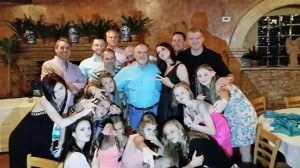 She says that in some sense, she always knew she would start a dance studio . . . or at least she hoped she would. She began dancing at the age of 3 and started teaching at 14. Her dance teacher as she was growing up, Jan Roe ton, inspired Jennifer by her teaching. Jennifer was raised in a studio that focused on technique; although Jan could be tough in the classroom, at the end of the day they all knew that she cared about them and loved them like her own. Jennifer danced with Jan from the age of 3 until Jan sold the studio when Jan was 20 years old. After teaching for Jan for many years, Jennifer taught for another studio owner and after a few years, Jennifer realized that she wanted to create a different kind of environment for dancers. She also knew that she had a lot more to offer as an owner/director of a studio than she could as a teacher for someone else. She had a vision for a studio that she thought parents and students would embrace. Jennifer wanted to be a positive role model for her dancers believed she was in an environment where that was not a focus. She has always wanted a studio with incredible dancers, but more importantly with incredible people who know that they have a responsibility to their community. She says that she guesses, she just knew that she could do more!
As a studio owner, Jennifer, of course, believes that her studio is one of the best anywhere. She believes that what separates their studio from others is that people come and STAY. Often, dancers and parents bounce from one studio to another looking for the "next best thing," trying to find the best opportunities to get their child a step ahead of everyone else. Although Jennifer doesn't understand that concept because it is not how she grew up, Jennifer says she can't say that she blames them. However, she prides herself in the fact that once their dancers come to the studio, they usually stay. They stay because they are happy with the instruction, age appropriateness, positive vibes and because they know that Momentum cares and that the staff works VERY hard to give their dancers the very best of everything that they can. The parents know that regardless of age or level, their dancer is going to come to a class taught by someone who loves them and only wants to show them the very best of dance and of life! Jennifer is not married yet and has no children of her own. She truly believes that if you ask any dancer or parent who has been with her for at least one year, they would tell you that each of the dancers is like her family. (She says they would also tell you that she cries a lot and will cry anytime she talks about her students and how much she loves them!) She has been extremely blessed by the success of Momentum . . . with their new location and all of their new students. Jennifer says that sometimes it feels like a dream!
Please post a comment if you have had any experience with Momentum Dance Studio or Jennifer Gilmore.
If you would like to know more about Momentum Dance Studio, check them out on their website at www.mdarlington.com or call them at 817-483-9191 or you can also search for them on facebook.  Also, you can email them at momentumdancearlingon@yahoo.com. Momentum Dance can be found around the web at Face book, Twitter, and You Tube.
Owner