Laurel Iannuzzi is the Dance Troupe Director and Coach of the Mt. Carmel Dance Troupe (MCDT) is the performance and competition team at the high school. They are a group of talented dancers who represent their school year-round through the art of dance. As with any sport on campus, it is an honor to be a member of MCDT and dancers must strive to work their hardest at all times. The troupe will perform at all home football and most basketball games, pep rallies, and community events.
In their 2015 season, Troupe continued to raise the bar for MCHS by qualifying all routines in the Championship division, showcasing high scoring soloists, and taking home 1st places in their divisions. Dancers on Troupe will audition to compete. Those on Troupe are encouraged to never settle with what feels comfortable, as they will continue to push themselves in their training. From the time their dedication begins in May, the team will focus on expanding their knowledge of the dance world by staying committed to their training, taking master classes, working with professional choreographers, and committing to their team mates, all while representing MCHS in a positive manner.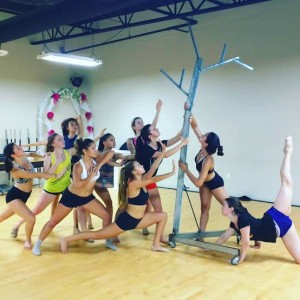 Laurel believes their dancers are very blessed to live in a community where students at their local high schools benefit from solid dance training at a variety of studios. At Mt. Carmel, they value the importance of growth and reevaluate where they are at each year stylistically and in their technique. Their program has been around since the 1980s and they honor and respect traditions that have been built throughout the years. They are very much a family oriented program.
She says that her proudest moments as a Coach has been witnessing alumni go on to work, teach, and mentor other young dancers after their experiences on MCDT. IT WARMS HER HEART! [Her capitals]
Laurel believes that the one thing that the seniors tend to know about dance that the younger dancers still have not learned yet is the importance of traditions and the love and passion for Mt. Carmel Dance. By the time they are Seniors, they also are more aware of emotion and putting a story behind their movement.
Her goals for the team this year are for them to dance as one body and commit to each other. There are nine members on the team and they say that each of them want to double in strength and power, so really…there should be 18 of them.
In August 2015, Laurel and her husband welcomed their first-born child into the world. Having a son has been the greatest joy and having him "join" our dance team has been fun. This is my twelfth year coaching MCDT and it's always interesting to see each year mold differently with unique personalities and leadership. Coaching has been a blessing in my life and I am forever grateful for the experiences I've had over the years.
If you would like more information about Mt. Carmel High School Dance Troupe, visit their website at mtcarmeldancetroupe.com. You can also "Like" them on Facebook.
Please post a comment if you have had any experience with Laurel Iannuzzi of Mt. Carmel High School Dance Troupe.
Written By Cyndi Marziani
Owner
BDancewear.com