". . . the biggest mistake she sees dancers make is their thinking being a good dancer is all about the ability to do "tricks."
Murrieta Mesa High School in Murrieta, California, is a comprehensive public high school offering a full curriculum of dance classes ranging from beginning to advanced. There are performance opportunities throughout the school year for all dance program students. The two big shows are the winter dance showcase and the spring dance production. There is an extracurricular dance team for those dancers who want to be more involved with the school beyond the class and stage experience.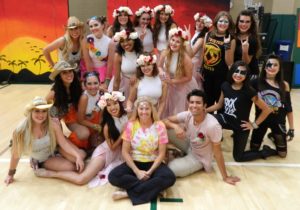 In the opinion of Penny Chidester, the Dance Program Director, what sets their program apart from other high school dance programs is the fact that there is a place for any student who has the desire to learn about the art and skill of dance.
Penny's proudest moment as a dance coach occurred when the music cut out in the middle of a dance team performance in a packed gym at a varsity basketball game halftime. The dance team continued to the end of the dance without skipping a beat and received a standing ovation from everybody in the gym. It made her cry. She was so proud of the kids.
Penny believes that the biggest mistake she sees dancers make is their thinking being a good dancer is all about the ability to do "tricks." It is her belief that dance is so much more than tricks and that dancers should be ready for any opportunity by being a well rounded dancer – take classes and train in all dance genres.
To provide all of her students with golden nugget moments, at the end of the school year, Penny has them look back at the school year so they can feel proud that they were involved in the dance program.
Penny became involved with Murietta Mesa's dance program in 2009. The school district was building a new high school and was looking for a dance teacher to build and develop the dance program. Penny was that teacher!
In the early years of the school opening, it was hard and rough. Penny learned to be careful what she wished for because I just might get it and she would work harder than she ever had in her life. However, through hard work, determination, perseverance, and sometimes a little luck Murrieta Mesa High School has an amazing dance program with alumni that have gone on to college and university dance teams, have majored or minored in dance, and are still practicing the craft they are so passionate about. This is the takeaway for Penn, "Do what you love, follow your dream, be positive, have a great attitude and good things will happen." She only hopes she can pass that along to her students.
If you would like more information about Murrieta Mesa High School's Dance Program, email Penny Chidester at ­­­­­ pchidester@murrieta.k12.ca.us, or call her at ­951-677-0568 Ext. 6415.  Anyone who has danced with Murrieta Mesa High School Dance Program, is invited to comment on our blog.