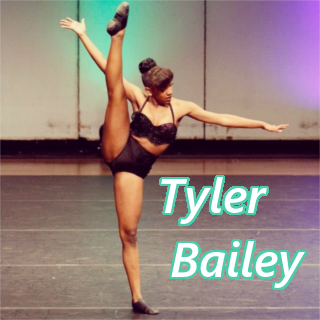 Our Dancer of the Month of September is Tyler Bailey.  Tyler is 12 years old and in the 7th Grade.  Not only is she Our Dancer of the Month for the month of September, but she maintains a 4.0 GPA. She is "really tall," really loud, outgoing and smiles a lot.  Tyler loves being around her biological family and around her dance family at Concepts of Motivation. She presently dances at Concepts of Motivation Dance Company under Onley Dance Studio. Also, she is an artist and loves to draw.  Japanese culture is something that really appeals to her.
She was first drawn to dancing when she was little.  She was completely in love with the movie remake of Willy Wonka and the Chocolate Factory. After every incident, the little men would come out and perform a song and dance routine. Tyler had just turned four and she watched it so much that she learned the choreography.  She remembers instructing her older brothers what to do because they weren't getting it right.  Her mother had videotaped it all and after her mom played back the recording, her Mom said "That's it! You're going into dance."  Tyler has been dancing ever since.
Tyler's happiest moment related to dance occurred when she was five years old. She had just met her choreographer, Ms. Joanne, for the first time and had been given her first solo called "Cha Cha." It was a sassy and slightly fast and she  forgot she was competing against other girls. The stage was an awesome place to be and she has loved it ever since.  The stage was, and still is, an awesome place for her to be.  She doesn't even think much about competing.  She just loves to be dancing.  She knew, and still knows, that this is where she belongs and continues to dance and compete whenever she can.  She dances with the same choreographer to this day.
There are a few things that Tyler has on her "To Do" list. First of all, she wants to meet Misty Copeland. When she first saw this gorgeous woman, she recognized that there is a distinct resemblance between them.
That inspired Tyler.  She decided that if this woman that looks like her can be a principal dancer of ABT, then Tyler believed she could also be a principal dancer.  Tyler is 12 and hears all the time, "Your feet aren't right, your body is growing faster than you, You lack this, You lack that and yes, This dance world can be cruel and frustrating and stressful." Misty mentioned on a commercial that she had a lot of similar comments come her way and that she had a lot of "No's" before she got the "Yes's"!!! That commercial made Tyler want to jump up and say like, "YASSSSSS!" It got her sort of teary-eyed. Misty is Tyler's role model and Tyler wants to dance as well as Misty one day. As a matter of fact, Tyler says she will dance as well as her. Not like Misty, but like Tyler.
Her first experience with Bailar Dancewear was when she needed some high waisted shiny lycra shorts  She ordered a white pair for a duet and a black one for her solo.  She and her mother embellished both pairs and they came out perfectly.  They looked really good. She loved how the shorts fit and how well she was able to move when she was wearing them, how they gave her a freedom to move when she dancing.
Tyler's goal for this year is to improve her ability to perform tricks in her routines.  She used to think dance had nothing to do with executing tricks. But now she plans to try to do them more often, especially since everyone else is doing them.  So, her goal is to improve her tricks and her dancing in general.
Tyler hopes to travel and dance all over the world.  Wherever they ask her to dance, she plans to there. She wants to go to college and major in dance.  Then, she wants to dance for a Company and eventually, open her own studio.
Please post a comment if you have had any experience dancing with Tyler Bailey.
Owner