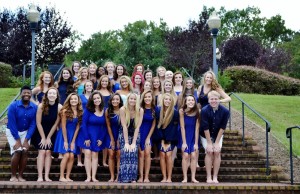 Mattie Fenton  is the Dance Director of the Dance Department at South River High School (SRHS) in Edgewater, Maryland. Mattie says that Dance in Anne Arundel County Public Schools started with only one or two high schools (South River being one of the first) and then through the vision and hard work of Judi Fey (Dance Consultant for AACPS) the program drastically increased over the years and now the county offers dance education at every grade level. Their program is now part of a nationally recognized K-12 Fine Arts Program.
SRHS has a range of students from 9th to 12th grade that can choose from five different courses: Dance I, Dance II-IV, Dance for Athletes, Junior Dance Company (by audition) and Honors Dance Company (audition only). Their Honors Senior Dance Company class is part of the National Honor Society for Dance Arts and the students must maintain a 3.5 GPA and participate in several county and state wide fine arts events. They also have two after school Dance Companies that rehearse three-four days a week.
There are no prerequisites for any of the dance classes except Dance Company. All students  enrolled in Dance are required to perform in a mandatory concert at the end of the semester.
The Senior & Junior Dance Company is for technically advanced dancers and participants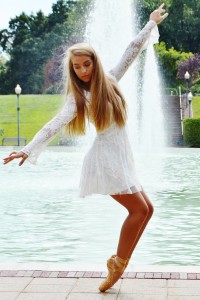 are selected by audition. Dance Company members rehearse after school and are required to perform in all concerts and all dance festivals. They must be technically proficient in ballet, modern, jazz and tap.
In Mattie's opinion their program is different from other dance programs because of what it provides its students. She describes this program as providing the students with a diverse learning environment. The culture and environment of the dance classroom is very different than a normal classroom in that it challenges students to get up out of their desks and interact with one another. Her lessons are based upon an integration of the National and State level Dance Standards with Common Core and 21st Century skills. The goal is to help students understand that dance can be used a tool to gain a better understanding of the world around them.
Mattie says what has made her proudest about this program is watching her students fall in love with the art form. When she sits back and watches her students perform, she can see that it is not just a grade or a credit they need to fill, it is a meaningful experience for them and performing evokes feelings for them they may have never felt before and may never feel again. They are learning what it feels like to be an artist.
One thing that the seniors tend to know about dance that the freshmen still have not learned is the fact that the dance studio is not a place for judgment, but rather a safe place that is made up of support and encouragement. Her dance company students quickly learn that being part of a company is the same as being a part of a family. They refer to dance company as their "Dco fam".
Mattie's first goal for the program this year is to continue to grow the program and spread awareness within the community. She wants people to understand the importance of fine arts within the public school system. Her second goal is to increase the rigor of the content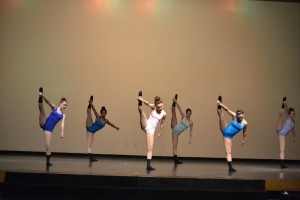 she is teaching her students. She wants to deepen her students' understanding of new ideas and concepts through critical thinking skills they have gained through creative movement.
The students in the Dance Department at South River High participate in a number of community outreach programs. They have a partnership with a local special education school where students from their dance department work with students that have disabilities. Together they choreograph a dance that is performed at various concerts in the county.
Many of the students in Dance Company volunteer at local elementary and middle schools to teach younger students dance technique and choreography. They perform at local retirement and nursing homes during the holidays. Additionally, they perform and participate at the Maryland Public School Dance Showcase, the Anne Arundel County Dance Festivals, and the Regional High School Dance Festival.
If you would like more information about South River High School's Dance Department, visit their website at www.southriverhi.org/student-groups/dance-company, or email Mattie Fenton at mefenton@aacps.org.
Please post a comment if you have had any experience with Mattie Fenton of South River High School Dance Department.
Written By Cyndi Marziani
Owner
BDancewear.com