We have not yet had the opportunity to interview the St. John's University Dance Team, if you are associated with the St. John's University Dance Team please have someone from the team email us at Brittany@BDancewear.com to set up an interview (only takes a few minutes and it's free).
In the meantime here is some quick insights about this St. John's University Dance Team from their website.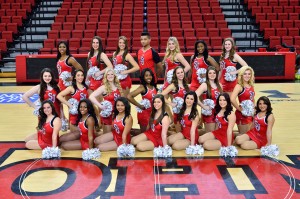 The Red Storm, the St. John's University Dance Team, has been in existence for over 40 years, and is rich in tradition and pride. Every year 15 to 20 young ladies with diverse dance backgrounds, perform during time-outs and halftime of all home basketball and soccer games and some away games. One of the many games where they have performed has been the halftime show for the Red Storm basketball team at the Madison Square Garden in New York City with 19,000 excited fans screaming. The thrill of dancing on the floor of the world's most famous arena must be amazing! The Dance Team has also made appearances at other sports events. While a major part of their season is spent supporting the varsity Red Storm sports, the Dance Team competes annually and is currently ranked 3rd in the country amongst Division I squads. Although there is no dance major at St. John's many girls on the team take advantage of the close proximity to Manhattan (located only 20 minutes from campus), and attend classes at famous Broadway Dance Center and STEPS on Broadway. Members of the St. John's Dance Team are superior ambassadors for the University and New York evidenced by their selflessness and contributions to their community. The team is actively involved in the Breast Cancer Walk, the Foundation for Fighting Blindness, and Special Olympics.