". . . the biggest mistake she sees dancers make is their thinking being a good dancer is all about the ability to do "tricks."
Murrieta Mesa High School in Murrieta, California, is a comprehensive public high school offering a full curriculum of dance classes ranging from beginning to advanced. There are performance opportunities throughout the school year for all dance program students. The two big shows are the winter dance showcase and the spring dance production. There is an extracurricular dance team for those dancers who want to be more involved with the school beyond the class and stage experience.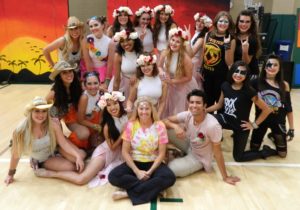 In the opinion of Penny Chidester, the Dance Program Director, what sets their program apart from other high school dance programs is the fact that there is a place for any student who has the desire to learn about the art and skill of dance.
Penny's proudest moment as a dance coach occurred when the music cut out in the middle of a dance team performance in a packed gym at a varsity basketball game halftime. The dance team continued to the end of the dance without skipping a beat and received a standing ovation from everybody in the gym. It made her (more…)