Tapestry Folkdance Center in Minneapolis, Minnesota, is very different from most studios or schools that we write about. First of all, it is not about the usual ballet, tap, contemporary dances that we write about. It is actually described as "a dance community" space where people of all ages and abilities can participate in the joys of folk dance and music from around the world. Folkdance is the catch-all word for dances that are meant to be danced by everyone in the community. Their steps are simple and do not require extreme physical contortions or strength. The simplicity of the steps allows everyone to focus on having fun, moving to the music and getting to know the other dancers. Tapestry programs, and its rental partner programs, offers dancers a variety of dance opportunities every week, ranging from international folk dancing to line dancing, ballroom dance to Scandinavian dance, contra dance and English country dance. Their classes are made available to people of varying abilities, they are accessible to people with disabilities and they are family friendly. Most of their dances are circle or line dances, so no partner is needed.
Beginners are welcome at all of their dances unless specified. They have lessons at the beginning of the dances to introduce newcomers to the dance form and throughout the dance there are many people to help you get up to speed! Dances that are especially good for beginners are their Bollywood Class, International Folkdance, Scandinavian and Family Dance. The best part about folk dances is that the steps and patterns can be learned and done by people of almost any physical or mental ability. Tapestry has wheelchair accessible facilities and talented teachers who can adapt their dances to meet handicap needs and abilities.
Tapestry brings people together who wouldn't normally know one another or interact. They are from widely varied economic and educational backgrounds, with varying politics and ways of life, who are united simply by their love of dance. There is a great shortage of such places in our society. No partner is necessary for most dances. In the dance forms that include partner dances, everyone switches partners at intervals so everyone is included. Folk dancing is a great way to meet new people and make friends. If you want to dance, you won't be left a wallflower at a Tapestry dance!
Their programming helps overcome social isolation, while interacting in a healthy activity that builds endurance, flexibility and balance. It's a place that's comfortable for singles and families, as traditional dances are done in a circle or line, generally without a partner. Traditions are both old and alive here. Folk dancing offers the pleasure and satisfaction of learning an art form, and is an alternative to "boring" health club classes through the social interaction and variety of dances. While various other entities offer traditional music and participatory dance with a specific ethnic focus, Tapestry is both the region's broadest in global programming and has the best facilities.
On the second Saturday of the month, Tapestry has a Family Dance program with live music specifically designed for kids and their families. This is a great way to connect with your children, exercise their bodies and brains and pass down traditions. Children are also welcome at many of their other dances as well. Some dances – like Contra – are best for teens and older children who would really groove to the fast-paced patterns. Bollywood, International Folkdance, English Country and Scandinavian dance are wonderful classes to attend with children at almost any age.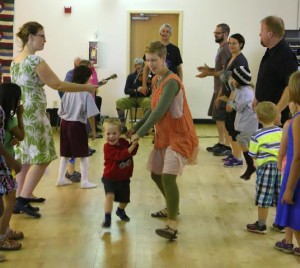 Family Dance focuses on simple easy-to-learn dances that everyone can enjoy. A caller teaches dances from the British Isles and America, including group circle and longways dances and play-party (singing) games. Live music every month. Breaks feature snacks and kid-friendly activities.
Their dance genres include Bollywood, Contra, Techno Contra, English country dances, Hmong line dancing, International Folk dancing, Line dancing, Scandinavian, and even Ballroom.
Bollywood is a stylized freestyle dance form based on moves used in the Indian/Bollywood films. It's energetic, lyrical and aerobic, modeled on classical and folk dance forms (Bhangra, Raas, Kathak, and Lavani), and influenced by Western hip hop.
Contra Dance is similar to old-time square dancing except the dancers are in lines facing each other instead of in squares. In a contra dance, a leader (Caller) teaches for 30 minutes before the dance begins. During this introductory "walk-through" period, participants learn the dance by walking through the steps and formations, following the caller's instructions. The music is similar to bluegrass but may reflect music traditions from New England, French Canadian, Irish, Scottish, Cape Breton and modern compositions.
Techno Contra is described as "glow-stick fueled, high-energy Contra with a twist" and "Traditional American dancing to club music." Techno Contra is the catch phrase for high energy Contra dancing to modern music accompanied by special effects lighting.
English country dances are elegant social dances from the 17th and 18th Centuries that are danced to Baroque and Early Music. The first Sunday of the month includes live music by The Anytime English Players and starts an hour earlier for more dancing fun!
Hmong line dancing is a fun way to end the day at a celebration! Like the electric slide, cha cha slide, or any other trendy line dances out there, Hmong line dance has similar foundations. Understanding the basics will enhance your learning and will assist you with advanced line dances.
International folk dances teach ethnic dances from around the world including Eastern Europe, Greece, Israel, Turkey, Armenia, Scandinavia, Brittany, East Asia and a little English Country. Their Advanced International Folkdance dancers have danced at the International Folkdance nights for many years and wanted to take their learning to the next level. This is not a beginner class, but anyone experienced in International Folkdance is welcome to attend.
Line dancing is thriving all over the world and it's not just for country music any more. Line dancing is great, low impact exercise for all ages. Seasoned dancers will coach beginners throughout the night and there will be split floor to accommodate both new dancers and seasoned so that everyone has fun. Line dancing is good exercise, it's a fun activity, and dancers can develop meaningful friendships with other dancers who share the same passion for line dancing.
International line dances are very enjoyable because you can dance anywhere in the world and everyone knows the same dances. You can he Waltz, Cha-Cha, Charleston, Night Club -2-step, Mambo, Rumba, Salsa, Tango, and Country 2-Step in a line dance formation without a partner.

Scandinavian Dances and music are celebrated once a month at Tapestry. Dance the whole range of Scandinavian dances including the vals, polka, schottis, hambo, snoa, mazurka, polska, springar, and more. These dances are family friendly. No one will be left out!
Ballroom or Latin style dances include the foxtrot, cha- cha, salsa, waltz, American tango, west coast swing, east coast swing and the rumba. After the lesson there will be a dance to practice your new skills and to try other Ballroom styles are offered every 1st and 3rd Sunday. The waltz is one of the world's most popular couple dances. It is both easily accessible for beginners and endlessly challenging for experienced dancers and it can serve as a gateway to other dance forms. Typically they alternate two waltzes with a non-waltz dance type.
Every year, Tapestry participates in and provides a number of special dance events that introduce folkdance to the broader community and build the Tapestry community. These events include: in April – Call of the Loon, June through August – International Summer Sampler, June through August – 9 Nights of Music, in partnership with the Minnesota History Center, August/September – Watch for Tapestry dancers at the Minnesota State Fair, October – International Dance Weekend, featuring a nationally recognized dance instructor and focusing on one region of the world, and Tapestry Partner Programs.
Tapestry is available to partner with schools, workplaces and non-profit organizations to bring the joy of folkdance to their community! Tapestry does not give out information on the individual teacher, caller or musicians. The instructors may be available for weddings, parties or other events.
If you would like more information about Tapestry Folkdance Center, visit their website at www.tapestryfolkdance.org, call them at 612-722-2914 or email them at staff@tapestryfolkdance.org. You can also "Like" them on Facebook, watch them on YouTube and review them on Yelp.
Please post a comment if you have had any experience with Leslie MacKenzie of Tapestry Folkdance Center.
Written By Cyndi Marziani
Owner
BDancewear.com