Kerrin Michaels is Owner and Director of the Greater Boston School of Dance (GBSD) in Boston, Massachusetts. The studio prides itself on is being a place for students that want to take their dancing to a new level. The staff is dedicated to making students stand out from the crowd. They are passionate about teaching proper technique, but even more passionate about good sportsmanship, kindness and while at competitions appreciation and support of other studios!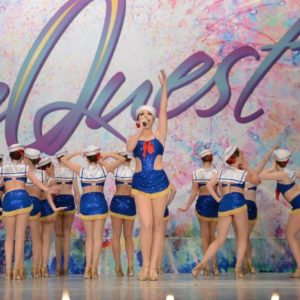 Having a strong musical theatre background, Kerrin knows how important it is for dancers to be "triple threats." Every year, the dancers have to sing in at least one routine. This year they competed with a Musical Theatre Tap routine to "Anything Goes" where they had a lead singer and the team sang chorus. GBSD tries to push their dancers out of their comfort zone and do something that will make them better, stronger dancers in the long run.
Kerrin's proudest moments as a coach occurred during their competitions this year. Not only did their team take home multiple first place trophies locally and nationally, but their studio was awarded "kindness" and "backstage awards" at several competitions this season. It was those awards that they celebrated the most. It is one thing to work hard and be rewarded, it is another to be humble and caring while doing it.
The staff of the Greater Boston School of Dance is dedicated to giving students the best performing arts and dance education in the Greater Boston Area. Students are given the tools to express themselves through theatre, music, dance, and visual arts. GBSD strives to bring the star out in every child that walks through the doors of their studio. At GBSD, their students not only learn dance technique but also learn to be confident and to love themselves.

GBSD dancers love to share their passion for dance! Whether it's on the stage or at a nursing home, their dancers give their all at every performance opportunity. GBSD has raised money through performances for many charities and warmed the hearts of local senior citizens by dancing at their community centers. GBSD also offers special rates for senior and special needs groups for their Nutcracker and spring performances.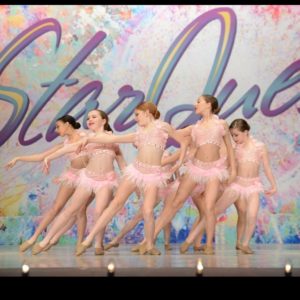 The biggest mistake Kerrin sees dancers make is focusing on what other dancers are doing rather than focusing on themselves. Every dancer is so different and can contribute something unique and special no matter what level. They cannot all be "that girl" (Kerrin said she sure as heck never was), but until they spend a little time to figure out ways that they can improve and focus on what they do best, they will never reach their full potential! Kerrin believes that all of her students "are trying to get to the same place, but everyone is going to take a different path to gather there!" Her goal this year for her students is perfect attendance. Not an easy one, especially when you are dealing with children and teenagers.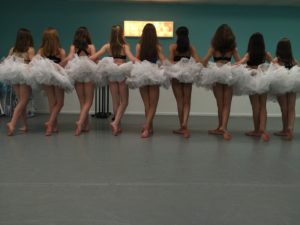 Kerrin has always loved dance and everything and anything you can put on a stage. After being on tour for a few years, she started picking up a few teaching hours here and there. In lieu of a "big" wedding, her parents offered to help her start a business. Her father kept saying "If you build it, they will come!" Her mother chose the name and The Greater Boston School of Dance was born! By the way, she got to "have her (wedding) cake and eat it too", she was married New Year's Eve 2014 and had a beautiful wedding!
According to Kerrin, their staff is very experienced and diverse in their training; that really brings something special to the classroom. They even have a mother-daughter combo of teachers! Their tap teacher comes to GBSD after owning her own studio for many years. It is such a blessing to have someone with so much experience to bounce ideas off of. Their ballet teacher is also the current Ballet Master of the Festival Ballet in Providence, Rhode Island.
One of their teachers has her own contemporary company based in Boston, Massachusetts, and another teacher is on staff with Revel Dance Convention and choreographs all over the country! Never a dull moment in their classrooms, that is for sure. The Greater Boston School of Dance was established in 2012 by Artistic Director, Kerrin Michaels in Newton, Massachusetts.
What began in the basement of the Post 440, grew with a lot of love and support from GBSD dancers, family and friends. In January 2013, GBSD relocated to Natick, Massachusetts. GBSD specializes in bringing out the love of dance and performance in every student. When students first walk though their doors, they are part of GBSD's ever growing dance family. Students at GBSD have the opportunity to explore different disciplines of dance and are taught by a highly trained staff. Non-competitive students have the opportunity to perform twice a year in their Winter and Spring Shows.
Their dance classes include Ballet, Tap, Jazz, Lyrical, Modern, Acro, Hip Hop, and Boys Only Hip Hop Class. They also have adult classes in Ballet, Tap and Jazz. GBSD is also home to a competitive company that has been ranked as one of the Top 50 in the United States! The Greater Boston School of Dance Competitive Company is an intensive dance program that requires an audition. Students ages nine and under who wish to dance competitively will train at least 4 hours a week and students ten years of age and older will train at least 5 hours a week. Company students will compete in a minimum of four regional dance competitions and have the option to compete in five. Company dancers will also have the opportunity to compete at a national level in late June.
Students who wish to join the GBSD Competitive Company will be required to attend a June audition. Classes for the Competitive Company are mandatory. This program is intended for serious dancers who choose dance above other extracurricular activities. During the Summer, GBSD offers other opportunities to their students including Bedtime Ballerinas – a special wind-down dance time with bedtime story and ballerina performance for little "Ballerinas" from 1 to 4 years of age. . . . . until they spend a little time to figure out ways that they can improve and focus on what they do best, they will never reach their full potential!Their Summer Intensive Program is designed particularly for the more advanced dancers that are at least seven years of age. They have guest teachers from Los Angeles, New York City, and GBSD! At the end of August, they hold an Open House with a costume raffle, gifts and more. Classes begin September 5th! If you would like more information about The Greater Boston School of Dance, visit their website at www.greaterbostonschoolofdance.com, call them at 617-780-7146 or email them at info.gbsd@gmail.com. You can also "Like" them on Facebook, connect with them on Instagram, and view them on YouTube. Anyone who has danced at The Greater Boston School of Dance, with Kerrin Michaels or with any of the other instructors at GBSD, is invited to comment on our blog.
. . . . until they spend a little time to figure out ways that they can improve and focus on what they do best, they will never reach their full potential!