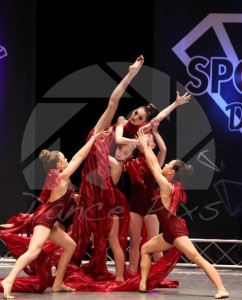 Six years ago on December 1, The Rock Center for Dance opened its doors and set a new standard, bringing life to dance and dance training in Las Vegas! Today The Rock Center is the premiere training facility for dance in Nevada. Through unwavering hard work and dedication to dance excellence, The Rock Center has established an unparalleled reputation. Top professionals and young students alike study dance with the master faculty at The Rock Center. The Rock Center for Dance is beautifully designed with large stunning studios equiped with the finest custom multi-layer basket weave floating floors hand-crafted by world renowned floor masters, Bolo Productions. The entire facility is professionally cleaned daily.
At The Rock Center for Dance, their purpose is to provide the highest standard in dance education and training for dancers of all ages and abilities. Serious young students train under the highly regarded program created by Quinn Callahan, their Artistic Director, Choreographer and also one of their teachers. They offer the very best professional training in an environment supportive of study, communication, discipline, artistry, balance, hard work, dedication, attention to detail, honesty, authenticity, recognition, kindness, growth and respect, thus developing not only the dancer, but the life tools needed by every individual to succeed. It is Rock Center's goal to give each student the gift of a healthy, well-trained body along with a nurtured love and respect for dance and its process.
The Rock also has a dance company "ROCK COMPANY" consisting of 50 competitive dancers who dedicate their young lives to dance. These young artists train, compete and place at the highest level. ROCK Company dancers are honored for their technique, strength, choreography, professionalism, and sportsmanship.
The Rock has a dance company "ROCK COMPANY" consisting of 50 competitive dancers who dedicate their young lives to dance. These young artists train, compete and place at the highest level. ROCK Company dancers are honored for their technique, strength, choreography, professionalism, and sportsmanship.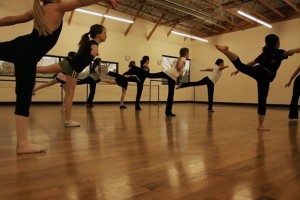 When Quinn was asked her opinion about what separates her studio from other dance studios, she replied, "I live in a (ROCK) bubble! I don't know what they do at other dance studios – haha."
Like many dance teachers, Quinn finds it very difficult to pick her proudest moment during her coaching career. She responded, "I cannot pick one! The students – Living and breathing with each soul that would do anything for dance . . . They work so hard . . . and savor what we feed them . . . too many beautiful moments." Quinn is the proudest when she sees the results of the dedication and hard work of her students and instructors. According to Quinn, "It's pretty amazing!"
In Quinn's opinion, the biggest mistakes she sees dancers make come from above. She said each dancer's body and mind is very different and they develop their own strengths as well as limitations. Quinn believes it is up to the instructors to make sure the students understand their bodies so they can develop good habits. Dancers that come from "somewhere else," typically come with a set of bad habits and limited knowledge and training. Their bodies haven't been trained in a way to properly handle/execute the movements they are trying to accomplish. Undoing poor habits, and creating good habits/muscle memory and training their minds and bodies usually take years.
Quinn had been approached many times over the years to open a studio. She always knew that some day she would open her own studio. In the middle of her career, she had to get both hip joints replaced and resurfaced. While recovering, she felt deep in her soul that it was her responsibility to make a huge difference with dance education, training and choreography. It took on a life of its own. She felt she could see where dance was and how to make a difference in Las Vegas and in the professional dance world, too. She believes she is blessed to be able to combine her artistic talents and dedication to dance and focus it all on The Rock Center for Dance.
Adults of all levels, from the absolute beginner to the best in the dance industry, have classes to challenge them at The Rock Center for Dance. They can expect to learn from seasoned dance masters as well as cutting edge artists currently featured on the Vegas strip! Adult classes are "drop-in" based.  You can find the adult/drop-in schedule, which is updated weekly on The Rock's website or you can visit The Rock's Facebook page for a daily updated schedule! Mature teens are also welcome in the adult drop-in classes.
The "drop-in" classes are just $13 each. The easiest and most economical way to purchase these classes is with the new "Rock & Load." With the Rock & Load, you prepay for classes without needing a punch card and save at the same time, i.e. 5 classes cost $60 (save $5), 10 classes cost $115 (save $15), 15 classes cost $170 (save $25) and 20 classes cost $220 (save $40).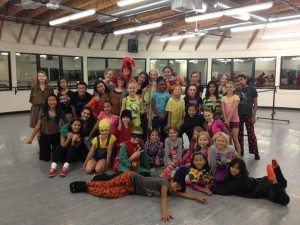 Besides their regular students, The Rock trains many of the professional dancers in town plus many dancers travel to Las Vegas specifically to train at The Rock. Their faculty is made up of 30 dance educators and dance masters, including Roni Mahler, Don Bellamy, Allan McCormick, Tony Coppola, Shawn Hughes, Katy Tate, Leeco Kosmidis plus additional guest artists from Cirque du Soleil, So You Think You Can Dance, Broadway, Americas Best Dance Crew, and world renowned choreographers.
In addition to the many talented choreographers and teachers who are regularly seen on the schedule at The Rock, they also offer master classes on a regular basis.  Their master classes feature world class teachers and choreographers.
Please post a comment if you have had any experience with The Rock Center for Dance or Quinn Callahan.
If you would like more information about The Rock Center of Dance, check them out on their website at http://www.therockcenterfordance.com. Additionally, you can call them at 702-341-7625 and don't forget to "Like" them on Facebook. Facebook Page LINK:  https://www.facebook.com/therockcenterfordance.
Owner