"Family" is how Triple Threat Performance Arts in Brooklyn, New York, is described by their students and their students' parents. It is what the Co-Directors of Triple Threat believe separates their studio from any other dance studio.  Triple Threat has three Co-Directors (Dana, Lynda and Kim Senisi) who are also sisters ("the Sisters").  They strive to get to know each and every child as well as their families.
One parent walked in to register her daughter and said to Dana, "I feel at home." The Sisters always welcome their students and their families as they come through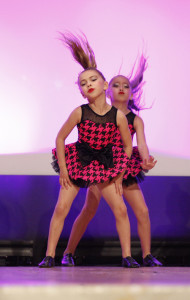 the door. Their staff has become  more than just dance teachers, but true inspirations for these kids. Their students are always coming to the staff, and asking them advice about everything under the sun. It's a good trust relationship and it definitely makes them stand out. As they said before, "Family."
The Sisters don't think they have just one "proudest moment" but actually have many "proudest moments." Every time a dancer walks in the room with a smile on their face all ready to work, or when a 2-year old finally comes into the room without crying, when dancers and teachers leave the room confident after a long rehearsal, when a student tells you "thank you" after a class, every time they see their students on that stage – these are all their proudest moments. They had one student share these words with them. "Thank you for making me a better dancer and person. You three are an inspiration to me and I hope to be like you guys when I grow up." All these things make them proud to be their teacher and they know they are doing the best by these young dancers.
The biggest mistake they see dancers make is that sometimes they are looking more at the medal/award they will win or receive than at the quality of their dancing.  The Sisters want their students to feel proud and be happy with the way they danced on stage  It's hard when a dancer does great and they feel that they have performed their best but when they get their award they are upset b
ecause it's not enough, it doesn't seem to match their performance.  It does get frustrating to them and whether The Sisters agree with the award they received or not, things like this happen. The Sisters tell the dancer to "look how you felt on that stage and look at the progress you have made." For the teachers, a medal is a medal, but the progress their kids have made is a great achievement. They tell the kids before every competition, "It is three minutes of your life on that stage and no matter what happens, hold your head up and be proud. You will have plenty more times and opportunities. Be proud how far you have come as a dancer, as a studio, because we are proud of you!"
Dana and her sisters love the products at Bailar Dancewear (BDancewear.com). Their main issues with dance clothing is everything is either see through, too short, made with bad material, or falls apart after wearing it twice and in some cases all four issues apply. The Sisters recently needed high-waisted, black shorts for competition. They were going crazy trying to find the right pair of shorts.  They ordered shorts from about three different suppliers until they found Bailar Dancewear.  They decided to give Bailar Dancewear a try and ordered the shorts from them. The material was great and it flattered every dancer. The kids loved them and reported that they were very comfortable. The Sisters  told the dancers that they couldn't wear them in class until after competition, but they are pretty positive some of the dancers wore them before competition anyway. The shorts were definitely a big hit with their kids. The Sisters said they now tell everyone about Bailar Dancewear, and will be ordering their stuff from Bailar from now on!
Triple Threat is moving into a bigger space this year with two pretty large dance rooms. The sisters said it's very exciting! They have purchased new sprung dance floors and even will have Marley floors in the dance rooms. Now that they have the bigger space they are adding in more classes such as Pointe and extra technique classes. Their goal is to teach these kids to be the best dancer they can possibly be, while keeping them grounded. They often see dancers get overwhelmed or ahead of themselves. The Sisters believe that patience and understanding is the key to success for every dancer. They want to not only educate their kids but to share their passion and knowledge of dance,  too. It's great when a dancer can do a beautiful tilt, arabesque, or a pique turn, but do they really understand the term or understand what their body is doing? The Sisters want them to be able to physically and v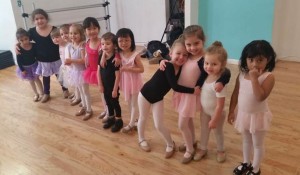 erbally understand the steps. The Sisters have seen many dancers that don't know any dance vocabulary. They always tell their staff to make sure when they demonstrate a step to repeat the word and have the kids say it back, too. Dana once had a parent approach her and relate that when she took her son to get fitted for ballet slippers, the owner of the store was very impressed by his dance vocabulary. Every time he did a step he said the name of it. He was only four years old and knew about 15 dance steps. She thinks that is very important for dancers young and old, and they will continue to make that one of their goals!
Opening up a dance studio has been Dana's dream since she was eight years old! While all her friends were twirling around in their tutus, she was the one choreographing and doing the pretend paper work. Little did she know those friends that used to be in her pretend shows would end up teaching at her studio years later. She even picked out the name of the studio at age eight.  She wanted it to be called "Triple Threat Performing Arts Company" because of her sisters. There are three of them and they all danced, acted, and sang when they were growing up. Their family and friends always considered them to be a "Triple Threat." Dana said she guesses that's where Triple Threat came into being! Dancing made her  feel incredible and happy. She wants her students to feel the same way and have the great experiences that she and her sisters had.
As you may have surmised by now, the studio is family owned. The three sisters are co-owners and Co-Directors, their mom is the Business Manager/Receptionist, and her dad, brother, and fiancé are the cleaning crew/prop managers/music/security and their biggest fans! It's great that they have their family so involved and helpful. The Sisters have always shared the love of dance since they were kids. They always danced together and now they teach together. They said, "It's a great feeling!"
As far as the word "Family," it really fits Triple Threat in very many ways.
Please post a comment if you have had any experience with Triple Threat Performance Arts or Dana, Lynda and Kim Senisi.
If you would like to know more about Triple Threat Performing Arts visit them at their website at http://triplethreatperformingartsco.com/ or you could contact  Dana, Lynda or Kim
Owner