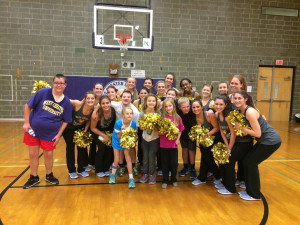 West Chester University Dance Team, located in Philadelphia, Pennsylvania, is a group of driven and hard working individuals who are committed to success. They push themselves each season to do even better than the last. They are not only teammates, but by the end of the season consider each other as family.
Their program is entirely student-run which means they do not have a coach. The dance team has elections for student officers at the end of each year for the upcoming season in the positions of two Co-Captains, Treasurer and Secretary. It is up to the captains to oversee practices, organize events and appearances throughout the season, and obtain choreographers for their nationals routines. The West Chester University Dance Team is a sports club that performs at the men's basketball games, homecoming and various other campus events.  It is also up to the team to create their own choreography for certain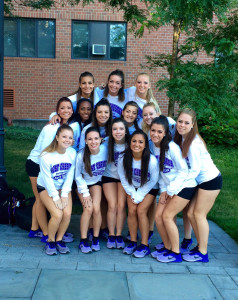 performance opportunities.
Even though their season has just begun, in this short amount of time they have set the standards much higher than years prior. They have accomplished things that they have never done before as a program. This summer they attended UDA dance camp at the University of Scranton alongside many D1 dance programs. In years past, they have travelled to a much smaller camp with less teams and a less competitive atmosphere. They plan to continue to raise the caliber of their program as the season progresses.
Freshman dancers who are not familiar with the UCA/UDA Cheerleading and Dance National Championship do not quite understand the feeling of performing on the nationals floor. It is completely different than performing at a studio competition or any other performance opportunity. The atmosphere is so competitive and exciting, and the rush of performing in front of hundreds of people is something you can only experience to understand.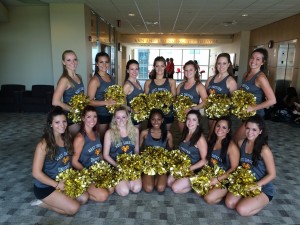 They are currently nationally ranked and compete at UDA College National Dance Championship in Orlando, Florida each year. They would like to make finals for both routines and hopefully place even higher than they have in the past. Top 5 would be phenomenal.
As captains, they are extremely honored to have had the opportunity to organize such a dedicated and self-motivating team. They have so much faith is this season and they know each member of the team is ambitious and ready to work towards the team's goals. They could not have asked for a better group of people to call our teammates.
If you would like more information about the West Chester University Dance Team, email them at westchesterdanceteam@gmail.com. You can also check them and "Like" them on Facebook.
Please post a comment if you have had any experience with West Chester University Dance Team.
Written By Cyndi Marziani
Owner
BDancewear.com