We have not yet had the opportunity to interview the West Chester University Dance Team, if you are associated with the West Chester University Dance Team please have someone from the team email us at Brittany@BDancewear.com to set up an interview (only takes a few minutes and it's free).
In the meantime here is some quick insights about this West Chester University Dance Team from their website.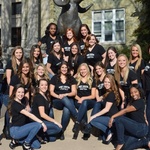 The West Chester University Dance Team is a spirit and social organization that strives to showcase the talents of the members of the team. They practice, perform, and compete to entertain audiences and promote West Chester University pride. he Dance Team perform at the Men's Basketball Games and other sporting events, the Homecoming Parade as well as community events both on and off campus. They annually compete at the Battle of the Northeast Regional Competition and the Universal Dance Association College Nationals Competition. At the 2015 UDA National Competition, they placed 6th in Pom and 7th in Hip Hop overall in the Nation! They are able to bring recognition to West Chester through their success in competitions and various college dance team events. The Dance Team is primarily a student run dance organization that performs at the men's basketball games, homecoming and various other campus events. They are currently nationally ranked and compete at UDA College National Dance Championship in Orlando, Florida each year. The team can have a maximum of 22 members. The dance team meets three times a week with extra practices required for competitions and games. Furthermore, Fundraising is a very important aspect of our team and will also require some extra time.