We have not yet had the opportunity to interview Westchester Dance Academy, if you work at or go to Westchester Dance Academy please have someone from the studio email us at Brittany@BDancewear.com to set up an interview.
In the meantime here is some quick insights about this studio from their website.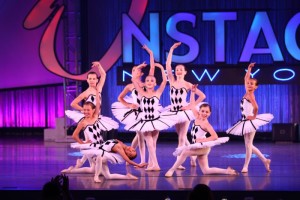 For students interested in making a more serious commitment to training and performing, we offer the WDA Dance Troupe. The Troupe currently consists of about 50 students all of whom receive numerous classes in technique in addition to private instruction. Our renowned Troupe consistently wins the highest awards from the most prestigious competition organizations across the country, in recognition of our students' technical and performance expertise.  While there are countless competitions offered throughout the country, WDA prides itself on challenging its troupe dancers at only the most esteemed organizations. The Troupe continually tackles this challenge and succeeds time after time, most recently including top awards from Onstage New York Nationals, New York City Dance Alliance (NYCDA) Nationals and Youth America Grand Prix.  In addition, our troupe performs annually for a series of charity events including Dancers Responding to AIDS (DRA) fundraisers and have had the privelege of performing in the past at Paul Newman's "Hole in the Wall" charity event.