The Hofstra University Dance Team in Hempstead, New York, is an exciting and competitive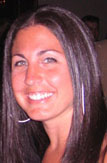 collegiate dance team that performs at University athletic events as well as other events held on and off campus. The members of the team support the Hofstra athletic programs and promote general school spirit. They are a group of dedicated individuals that are determined to improve in their abilities and entertain audiences with their exhilarating routines.
Kelly Olsen-Leon is the Head Coach of the Hofstra University Dance Team. She was a member and captain of the Hofstra University Dance Team from 1999-2003, became the assistant coach from 2004-2006, and then became the Head Coach in 2006. Kelly is the oldest of four sisters and each of her three younger sisters danced for the Hofstra University Dance Team also! They are truly a family!
Kelly is highly qualified for her position as head coach. She holds a B.A. in Elementary Education and Mathematics, and an M.A. in Math, Science, and Technology all of which she earned at Hofstra University. She was a high school mathematics teacher, a four year member and former captain of the Hofstra University Dance Team and coached several high school and college dance teams, before she became a coach at Hofstra University. She was also a head instructor for the Universal Dance Association, a judge for Regional, State and National competitions and a choreographer/consultant for high school and college dance teams and dance studios.
Hofstra University Dance Team has developed into one of the premier college dance programs in the United States. They have been nationally ranked for the past 20 years and has been in the top ten for 18 of those years, top five for 16 of those years, top three for nine of those years, and has been named National Champions in 2006, 2012, and 2013. The team is currently Nationally ranked third in Jazz and fifth in Hip Hop and Internationally ranked second in Jazz Doubles. The team has also competed locally and is ranked #1 among colleges on Long Island.
Due to the team's demanding schedule, they dedicate approximately 18 hours per week toward practice, athletic events, University events, technique, and weight/strength training.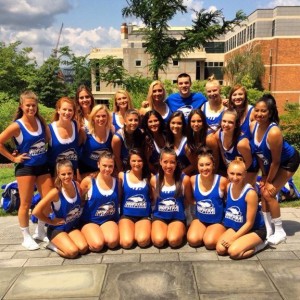 The Hofstra University Dance Team is composed of dancers trained in the areas of jazz, pom, hip hop, lyrical, contemporary, acro. Dancers go through a three day audition process in which all these styles are viewed. Their dance team works extremely hard throughout the season to represent their University to its fullest. They perform at University and athletic events all across campus and the community. The team also competes at the Universal Dance Association Collegiate Nationals each year. This takes places in Orlando, Florida, every January. The team has maintained a position in the top three of the Nation for almost 10 years. They won Nationals titles in the Division 1 Hip Hop category in 2006, 2012, and 2013. Their dancers also maintain a good GPA with a team cumulative average of 3.4. The team is made of talented, hard working, dedicated, and motivated dancers. They are pushed very hard by Kelly to get the most out of them and they always rise to meet her expectations. Their team motto is DANCE AS ONE! However, their team becomes a family and learns to truly do more than dance as one, they become one!
Kelly believes that the fact that her dancers are very well rounded is one thing that really separates their dance team from others. They are not a jazz team, or a hip hop team . . . they are a dance team. They change up the styles of their routines throughout the season and the routines always look great! Kelly and the assistant coach love to clean routines and she thinks the ability to be so synchronized and dance as a unit really makes them shine over others.
Her most obvious proudest moment is being a part of this program is when they won the title of National Champions in 2006, 2012, and 2013. However, aside from that, it is great to see all the wonderful and amazing things their students do after leaving the program. Their dancers learn time management, they learn work ethic, they learn how to survive in the real world, and they also learn/want to stay connected to their second family which is their Hofstra University Dance Team family. Kelly loves hearing from Alumni and having them come back to support the current team. They are truly Forever Family!
According to Kelly, the one thing the seniors tend to know about dance that the younger dancers still have not learned is the reason they sacrifice so much of their lives to a team, when younger dancers do not see it yet. As a freshman, you do not realize how fast your four years doing what you love to do will pass. By the time you are in your senior year, and it is your "last chance," you really become more motivated and more understanding of all the craziness that goes on each year to get their routines ready for Nationals. Every practice, every workout, every cleaning session becomes so much more important and the feeling of knowing it's your last year dancing at the collegiate level becomes so real. Each year their seniors push their underclassmen to realize just how much goes into being successful.
The Dance Team holds yearly auditions and they have already started preparing for the 2015-2016 seasons. Their auditions will be taking place Friday, April 24th to Saturday April 26th but the returning team members have started working with a trainer and are really pushing their technique/acro work. Their motto for this upcoming season is WHATEVER IT TAKES! The past two seasons, they were extremely close to re-earning that National title that they want so bad. They are going to step it up this year and do whatever it takes to be proud of the routines they compete, but also to win a National Title! She hopes that all of the team members can be on the same page and put in the same fight to reach their goal.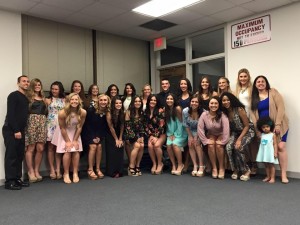 The Hofstra University Dance Team hosts prep clinics for the purpose of preparing dancers to audition for college dance teams which usually take place on campus. Also, they can bring their camps or clinics to you have camps or clinics that can be created around your needs. Anyone interested in having their own camp or clinic should contact Kelly.
One thing Kelly wants everyone to know is just how much this program and the dancers on the team mean to her. They are her second family and she wants to create memories and bonds that will last a lifetime for them. She believes that their dance team is like no other. They have it all . . . and anything they do not have, they work at it until they get it!
If you would like more information about the Hofstra University Dance Team or just want to keep up with their upcoming performances, visit their website at www.hofstra.edu, call them at 631-560-4202 or email them at Kelly.Olsen@Hofstra.edu. You can also like them on Facebook, follow them on Twitter  (@HUDanceTeam), connect with them on Instagram (@hofstradanceteam) and watched them on YouTube.
Please post a comment if you have had any experience with Kelly Olsen-Leon of Hofstra University Dance Team.
Written By Cyndi Marziani
Owner
BDancewear.com