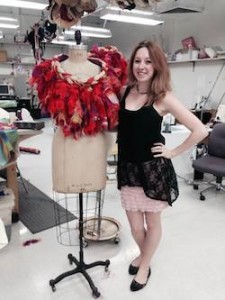 Pamela Workman is the Resident Costume Designer for Gainesville Theatre Alliance (GTA) and the Assistant Professor of Theatre – Costumes for Brenau University in Gainesville, Georgia. The Gainesville Theatre Alliance is a nationally acclaimed collaboration between the University of North Georgia, Brenau University, Theatre Professionals and the Northeast Georgia Community. GTA was rated the #1 underrated Theatre University of the Southeast.
She describes her profession as ever changing and always moving. Due to changing shows every couple of months, she never feels like she is performing the same tasks every day. Yes, she is at work at the same time every morning but the actual tasks change day to day. Even if she is working on a show she has worked on before, it is different because the production team is new, the design is new, her team is new, and the actors are new. She is never bored and she is always learning.
According to Pamela, Gainesville Theatre Alliance (GTA) is different from other costume departments because they are a blend of two University Theatre Departments – Brenau University and The University of North Georgia. They strive to educate and develop future professional theatre and film technicians, designers, and actors. Due to their close proximity to Atlanta, their students have the opportunity to work in that growing film industry. They bring in guest artists to host workshops, design, and perform alongside their students.
As a designer, Pamela's proudest moments come from interpreting the right "feel" of the production into a living organism on stage. With the production team collaborating together and working towards the same goal of creating wonderful theatrical memories for
patrons, she simply loves when it all works in the end.
As a technician, she loves it when she can make a costume look appropriate to the time period. This includes the seam placement, fabric textures, and closures.
As an educator, she is most proud when her students are proud. When they take ownership in the production and recognize how sewing may benefit them in the professional and personal world.
Pamela believes that the biggest mistakes she sees other costume makers make is that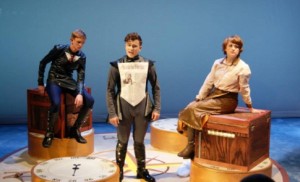 young designers sometimes design costumes that cannot be constructed in the world of live theatre, especially educational theatre. Gravity is a thing. My suggestion is for all designers to have at least basic sewing, drafting, and draping skills before taking on a show.
She has several goals for this year: First, she wants to finish Mary Poppins. Second, this is her first semester with GTA. They are moving into a new costume shop which is really exciting! Third, she has a husband and three boys. They are still adjusting to the area and have not finished decorating the house. Fourth, she and her shop manager are learning how to work together as a unit and they are adjusting to each other's' strengths. So this really is a year of growth in her life. Next, she is looking forward to next semester when she will be designing Once on This Island. Lastly, she is planning on going to a comic-con and a Renaissance Faire.
Originally, Pamela went to college for teaching History. Then an Intro to Theatre course gave bonus points to anyone that volunteered in the Costume Shop. So, I went . . . and never left. Looking back on it, this path made more sense. Her great-grandmother retired from stitching about three years ago. She made Pamela's pageant and church dresses. Her mom made their Native American regalia for Pow Wows. Pamela has been in Renaissance Faires, in and out, for about 17 years. So, sewing is in her blood. She has known that she wanted to teach since she was in the fourth grade. Consequently, this career makes sense.
Their costume shop is really geared towards good quality construction. At least, that is the path she and Allen (Costume Shop Supervisor) are urging it towards. Remember, she is new. She loves using vintage patterns and adding the extra seam allowance to make costumes. For Pamela, it gives a wonderful sense of pride in the technical aspect. As a designer, it just looks great!
They have one production a year that is part of the WonderQuest series. This focuses on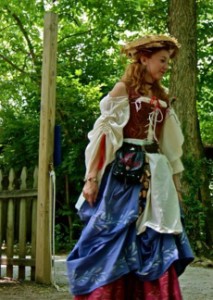 children's theatre and brings in field trips from all around their area.
They also have a variety of theatre spaces to work in and give their students experience.
Pamela says she buys B Dancewear for the shows she designs for or to build costumes. I do buy them for the shows I design for or build costumes. She says that she loves the many colors available and the high waists. Also, she said the pants work really well for a variety of dancing styles.
If you would like more information about Pamela and her amazing background, check out her website at www.originallypamela.com. You can also find and "Like" her on Facebook.
If you would like to know more about the Gainesville Theater Alliance, find out more at their website http://blog.ung.edu/gta. They can also be found, and "Liked" on Facebook.
Please post a comment if you have had any experience with Pamela Workman.
Written By Cyndi Marziani
Owner
BDancewear.com